Are you an offbeat bride? The bold girl who likes to sensationalize things? The one who wants to make her wedding even more memorable? If yes, then green wedding dresses are just for you. Green is the color of freshness, hope, and renewal. Whether you want a one-piece dress or a two-piece one, an off-shoulder sleeveless gown, or one with big puffy sleeves, green has various shades and looks amazing in many designs.
You can even combine white and green to create a unique and dramatic look. North African brides often wear white and green at their weddings. At Afghan weddings, they often wear emerald color bridal gowns. Since green is the symbol of prosperity, many cultures celebrate it, especially at weddings.
Emerald green is certainly a captivating hue. But you don't have to stick to just that one shade. There are so many other pretty shades as well. Whether you're a fan of aqua, lime, or moss, there are many green wedding dresses to bring out the best in you. So let's sit back and look at some of the most beautiful wedding dresses that prove that white isn't always the only symbol of the eternal bond.
Why Do So Many Brides go For Green Wedding Dresses?
As we experience cultural diversity, we see so many exciting colors and designs at weddings. While traditionally, brides have always donned white dresses, they are now inspired by different cultures and want to bring their best sides into their own lives.
Western culture has always seen white as a sign of purity. But move away, white, there are other contenders in town. Try vivid and colorful dresses that reflect the beauty of different cultures and also help you stand out at the wedding.
And the best part is that there are so many green wedding dresses available in the market that you'll be spoiled for choice. Let's discuss some of the best options and where you can find them.
Some Amazing Green Wedding Dresses
Let's check out the best looking green wedding dresses.
1. Frothy Green Dress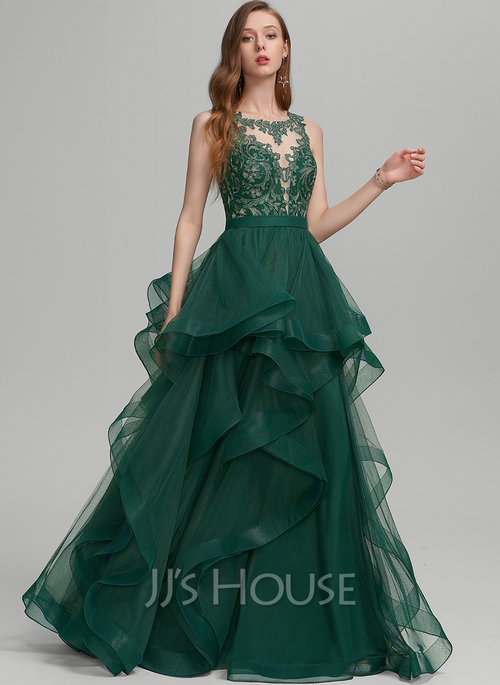 This dreamy green wedding dress is made of tulle and lace fabric. With its bold neckline, it will make you look extra glamorous. The gown has a charming appeal that's hard to find anywhere else. And the best part is that it's available in several colors, including multiple shades of green.
It's available in several sizes, along with a custom size option. If you feel you need special fitting for your size, you can get it tailored to your exact specifications. This is a dress that can be used as a blueprint for forthcoming wedding dresses with its elegant style.
You can accessorize the dress with a simple veil and sheer gloves. It's designed to leave an impact – whether you plan a big, fat wedding or a simple church ceremony. Mark a new era of wedding style with this one-of-a-kind wedding dress that will make the groom fall in love with you even more.
Available at JJ's House.
2. Satin and Lace Gown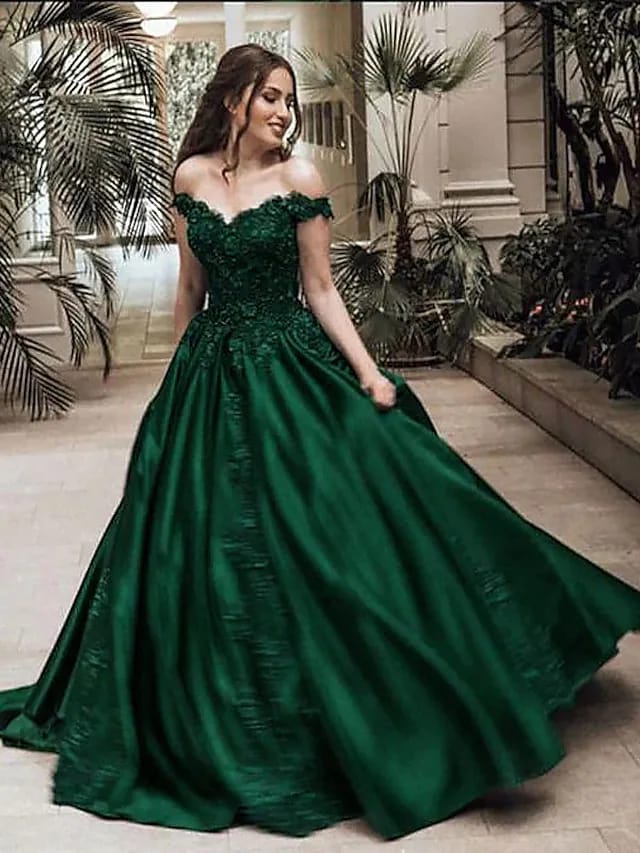 This beautiful satin gown is available in several colors, including many shades of green. However, emerald green is the most striking of all the available colors. The other two shades of green are lime green and clover green.
Look like a fairy princess with this traditional looking gown that oozes style and grace. Feel like a queen in this classic ball gown that will make any woman twirl with happiness. It's a floor length gown with applique work that matches the top of the dress. Since it is made of satin, it carries a natural shine that radiates throughout the dress and complements the shine on your face.
An off-shoulder sleeveless gown, it is ideal for a garden wedding. Accessorize it with a flower headpiece for the perfect garden or jungle appeal. You can also wear a flower bracelet to complete the look. If you are a nature-lover, there cannot be a more perfect wedding dress for you.
Available at Light in the Box.
3. Winslow Dress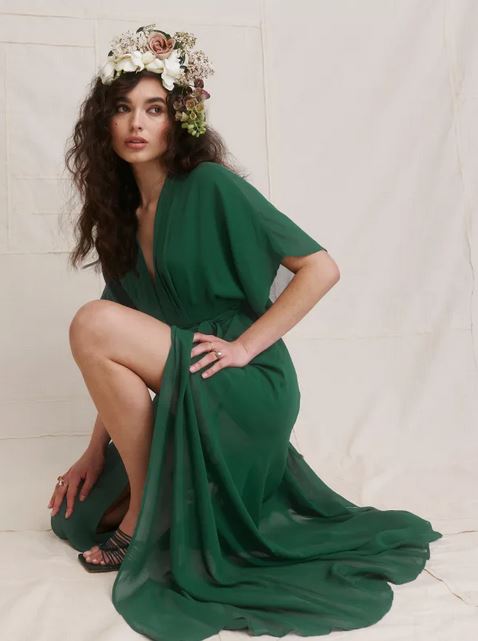 This beautiful wrap dress can be wrapped according to your perfect size. Whether you're a lover of loose dresses or tight, you can adjust it accordingly. And if you want to wear it tight, it comes with a side slit that gives you enough space to move around. Or you can change the adjustment depending on the time and event. Wear it tight during the walk down the aisle and then loosen it when it's time for a dance.
It's a sheer dress with kimono sleeves that give it a unique and stylish look. Accessorize it with a waltz wedding veil to accentuate the raw beauty of the gown. The dress is made of lightweight georgette that flows beautifully and wraps itself around you in a cozy way. This ankle-length dress carries a casual appeal which makes it perfect for a girl who is fun and carries a quirky and witty sense of humor.
Available at Reformation.
4. Dress with Long and Stylish Sleeves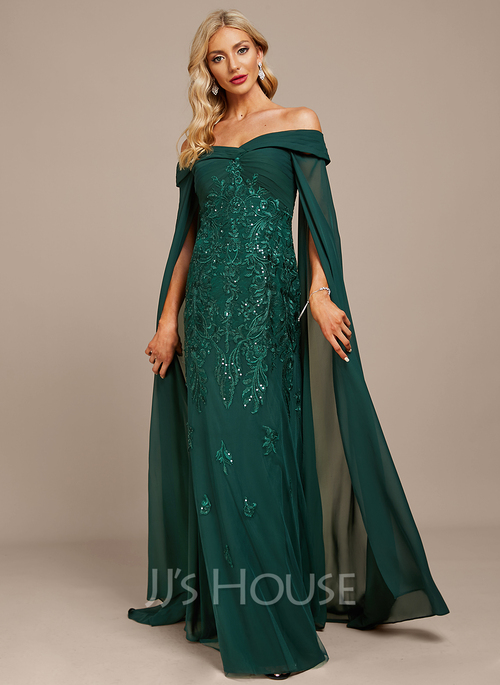 While the dress itself is very elegant and charming, the main grace comes from its sleeves. These amazing sleeves give the gown a royal look. And the best part is that you can remove the sleeves when you want to sit and relax between events.
This soft chiffon dress drapes around your body and accentuates your shape so you can look your best on your biggest day. The off-the-shoulder dress creates a regal appearance that you can enhance with a pearl necklace and pearl earrings. A light bracelet will also go well with the dress.
The sequins on the dress sparkle like stars and cast a dazzling shine that adds to the glam factor of the gown. With its captivating color, unique look, and beautiful embroidery, you'll find the guests gazing at you with awe. And of course, the groom will swoon with love as soon as he sees you.
Available at JJ's House.
5. Ruffled Green Wedding Dress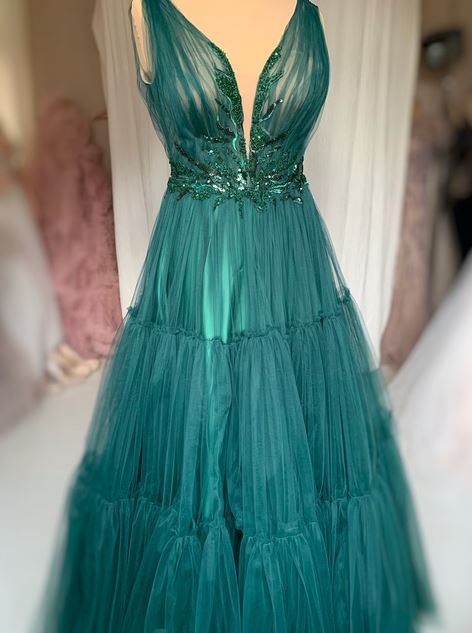 This forest wedding dress comes with a deep V neckline and you can get it in any shade of green. While emerald is the most eye-catching, get your favorite shade, whether it's mint or lime. It's an A-line gown that's handmade with tulle layers where each layer is attached and sewn carefully.
It is made of sheer fabric with high-quality lining. The lining is made with satin and the top has a corset attached to it so you can fit it to your exact size. You'll love the bodice as it comes with French lace and other embellishments. The ruffles give it a unique look that's hard to achieve.
And yes, the dress looks timelessly elegant. You can also wear it as a bridesmaid dress, prom dress, or evening dress. No matter where you want to wear it, if you want to look stylish and elegant, this dress is for you. Get this bespoke gown exactly according to your measurements.
Available at Etsy.
6. White and Green Wedding Dresses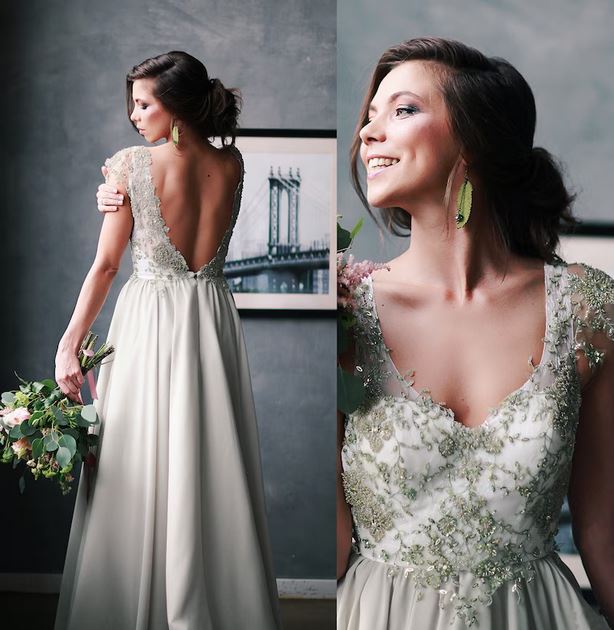 If you want to experiment with color but don't want to go all the way over to bright green, why not sprinkle your white wedding dress with green florals? Check out this intricately designed dress that has an A-line silhouette which looks beautiful with a cathedral-length veil. Pair it with pearl drop earrings to create a truly refined look.
Bring your romantic wedding to life with this beautiful gown for a modern bride. Classically white with green touches that add a twist to the standard fairytale. The green skirt carries a whimsical touch with an embroidered corset necklace. The gown also has a train that can add a traditional yet playful look to it.
Your special day will be even livelier with this dress that carries a youthful appeal and a boho style. Want to add to the green color? Wear green accessories with it. A bouquet that's leaning on the green side will also be helpful.
Available at Etsy.
7. Exquisite wedding ball gown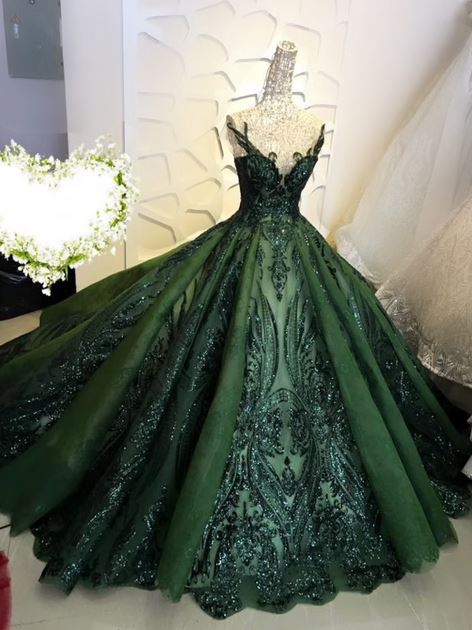 Sparkle on your special day with this sparkly gown. It's available in various colors including beautiful shiny green. The tulle of the gown comes with gorgeous intricate patterns with a luster that make the gown come alive with energy. It's an off-the-shoulder gown that you can have in V-neck or sweetheart necklines.
The sparkly sequins reflect light and create a glittery appearance. The elaborate pattern of the dress will catch the gaze of wedding guests and they'll always remember the wedding. It comes with a court train that makes the dress even more regal.
The shimmering sparkles of the dress ensure that you're the star of the day – as you should be. Add extra pizzazz to it by wearing a petticoat under it. It's a custom-made dress that you can get according to your specific size. If you want to look like Cinderella or a queen, this is the perfect dress for you.
Available at Etsy.
8. Medieval wedding dress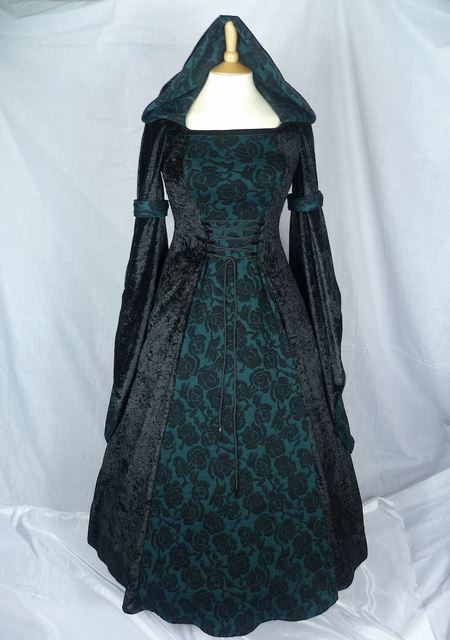 Ah yes, the medieval days – so dark and mysterious. And while they weren't always the most luxurious, they had beautiful dresses, which is why it's natural to get inspired by medieval style on your wedding day.
While many brides don't prefer wearing black on their wedding dress, this unique combination of black and green just might be ideal for you if you like the royal medieval look. Or maybe if you're into Goth subculture.
Made of high-quality crushed velvet, this bespoke dress will come exactly according to your specifications. The combination of velvet with jacquard is eye-catching and will take you to the old Victorian days when things were simpler. Not this dress though – it's intricate and artistic.
It comes with a corset, so you can tighten it according to your size and achieve the best look on your big day. It carries a monarchial vibe that you can carry in other events as well.
Available at Etsy.
9. A Classic Wedding Dress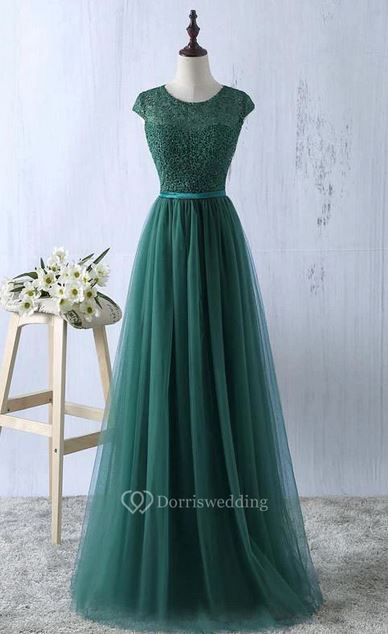 Now here's a classic wedding dress, except that it's in green instead of white. Be a minimalist bride with simple yet classy silhouettes. Most green wedding dresses carry a twist, which in this case, is the beautiful lace work. Carry simplicity and subtlety with a dash of elegance that adds more grace to your wedding.
It carries a whimsical and casual look that's ideal for a beach wedding. Just make sure you get an aqua green dress (also available) and you're good to go. Read the vows with sand between your toes. There are so many destinations to choose from. Make your destination wedding extra special with this floor-length dress.
Planning a jungle wedding? This is the perfect dress for it. Wear it with a flower crown and a flower bracelet to enhance the experience. Ivory accessories will also look good with this gown – an ivory bracelet, necklace, and/or earrings to add a subtle but queenly touch.
Available at Dorris Wedding.
10. Embroidered Floral Green Dress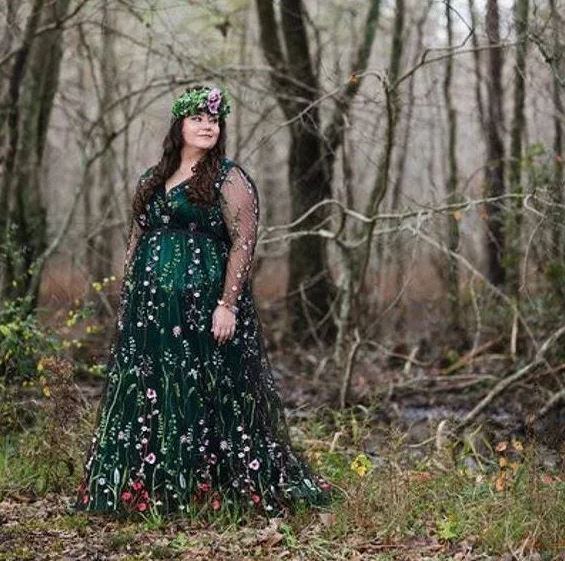 This plus-sized dress is ideal for curvy girls. This looks good on all body types and is perfect for a jungle-themed wedding. Wear it with a floral crown and you'll carry the raw unfiltered natural look you've been looking for.
The dress contains flowers in several shades and they add a unique charm to it. The dress is also available in other colors but if it's a jungle wedding you want, green will be the color to go. It's a long wedding gown embroidered with tiny fabric flowers and butterflies. It has a V-neckline and long sleeves.
It's a dress that will thrill you with its perfect fit and flaunt your curves so you look your best on your big day. Make him fall head over heels in love with you all over again with this embroidered wedding dress. While there are many green wedding dresses, this one suits all body types and looks amazing.
Available at Etsy.
Go Green with Green Wedding Dresses
In Irish culture, green symbolizes good luck and new beginnings. So if you're in Ireland for your destination wedding, a green wedding dress makes even more sense!
Looking for some other color? How about these red wedding dresses for your big day?