Are you excited? Your friend is getting married soon, and it's time to celebrate. You've already planned his bachelor party, but do you have gift ideas in mind? Of course, you need to give his groomsmen a cool giveaway!
You only have a few days to think about what to buy them, and you're running out of time! Don't worry, though. We're here to guide you in your search!
There are many fun and exciting ideas for bachelor party gifts these days. Your gift can be anything from a bottle opener, a flask with their names printed on it, or even a gag gift.
In this article, we've put together a list of awesome products you should consider. This way, you'll have plenty of options. And who knows? Maybe this will help you come up with new ideas too!
14 Bachelor Party Gift Ideas
1. Custom Engraved Flask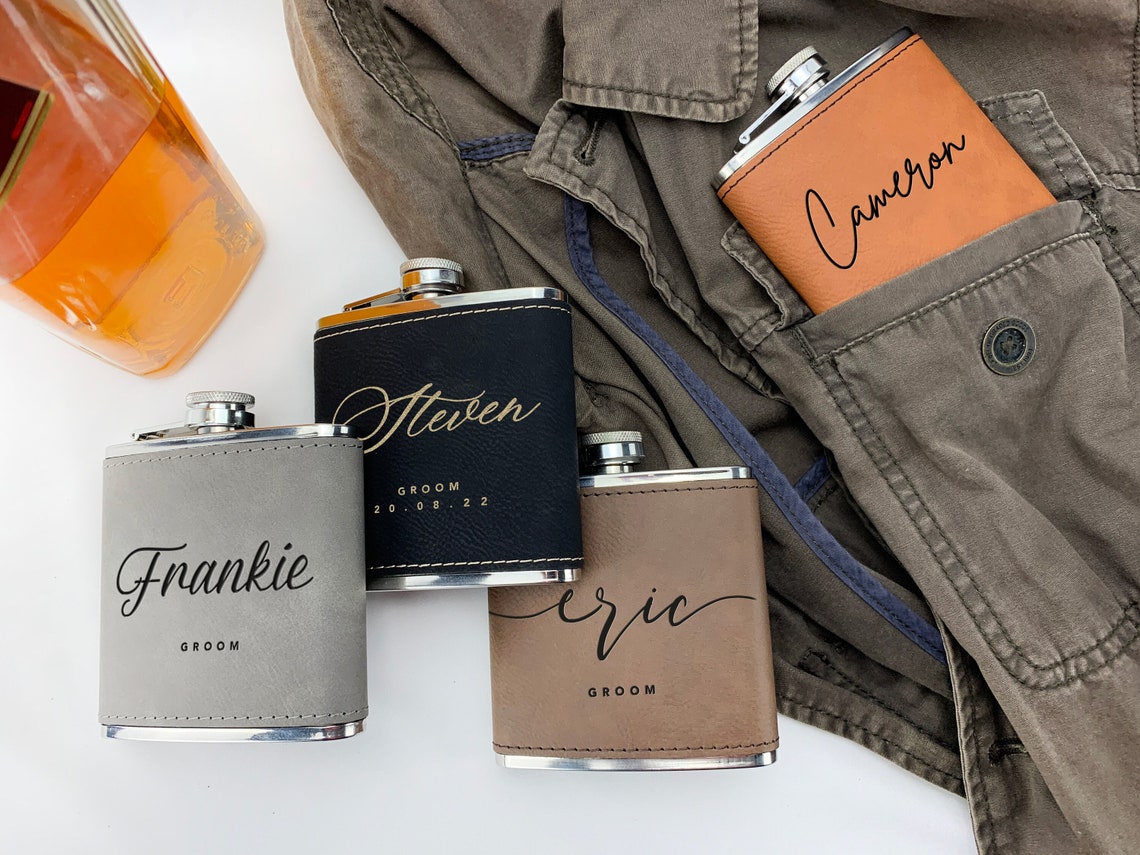 An alcohol flask is one of the easiest gifts you could get for your groomsmen. It doesn't matter if they drink beer, wine or any other type of liquor. There's always a use for a good flask. It's practical and convenient for them to carry around at all times.
This custom flask by RusticHustleShop is one of our favorites. It's a handmade piece of art that you can even engrave with the groomsmen's names or initials, if you'd like! You can even personalize them with any word or phrase (even use a funny saying). Whatever it is you choose, they'll definitely appreciate the thought. Besides, they'll be able to keep their favorite drink close at hand whenever they need a little pick-me-up.
The flask can hold about 6 ounces of liquid and has a screw cap. It's also leather-wrapped, which makes it look more expensive than it actually is!
---
2. Arturo Fuente Curly Head Deluxe
A lot of guys enjoy smoking cigars. It's a great way to relax, and also a good way to impress! That's why we included this option on our list.
Arturo Fuente is a top brand that you can buy online. Their cigars are handmade, and they're made with premium-grade tobacco leaves from the Dominican Republic. The particular cigar blend that we chose for our list is the Curly Head Deluxe. This one comes in a box of 25 individually wrapped cigars. It's a mellow to medium-strength smoke that offers a smooth taste.
JR Cigars has a wide range of other cigars to choose from, so you can easily find something that suits your friends' taste. If you're not sure about a specific brand or flavor, you can always ask them for help.
---
3. Personalized Whiskey Glass Set with Whiskey Stones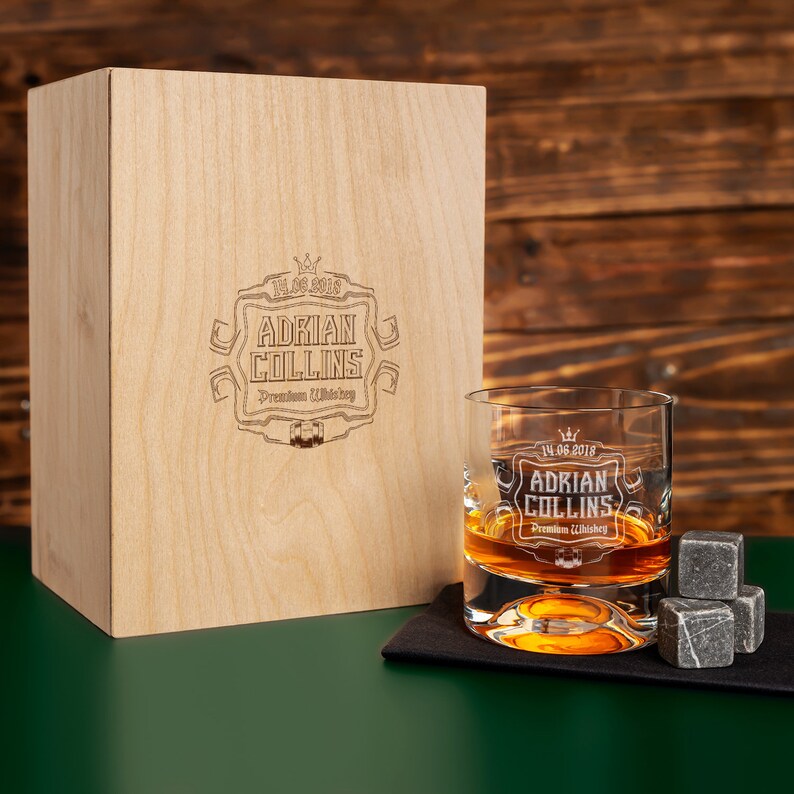 If your friends like to sip whiskey, then they'll love this custom glass set by DSGiftStudio! Not only is it aesthetically pleasing, but it also offers a practicality that other glass sets lack.
Each set comes with three quick-frozen granite stones that will keep your liquor cold for an extended period of time. Moreover, the glass itself is lightweight and easy to clean. As for the design, the glass features a diamond texture, which looks elegant and classy. You can personalize it with a message or their name.
The glass and stones are packed in a high-quality wooden box, with a padded interior. This keeps everything safe and protected during shipping. Similarly, you can have it engraved with their name or a special note.
---
4. Tito's Vodka Gift Basket
Tito's Vodka is a popular spirit that offers a unique taste you won't find elsewhere. In fact, this vodka is known for its sweet, corn, peppery and oily notes that never fails to delight any palate. So, you can bet that the groomsmen would be thrilled to drink it!
This gift basket contains a bottle of Tito's vodka, plus a ton of goodies to pair it with. These include snacks like pretzels, fruit jellies, caramel popcorn, chocolates and crackers! All of those delicious treats go perfectly with a nice bottle of vodka.
You can also customize the basket if you wish by adding glasswares and cigars. It's on the pricey end of bachelor party gift ideas, but we're sure that the groomsmen will enjoy it.
Buy Now: $115.00 | spiritedgifts.com
---
5. Rasslor Side Spikes Shield Sunglasses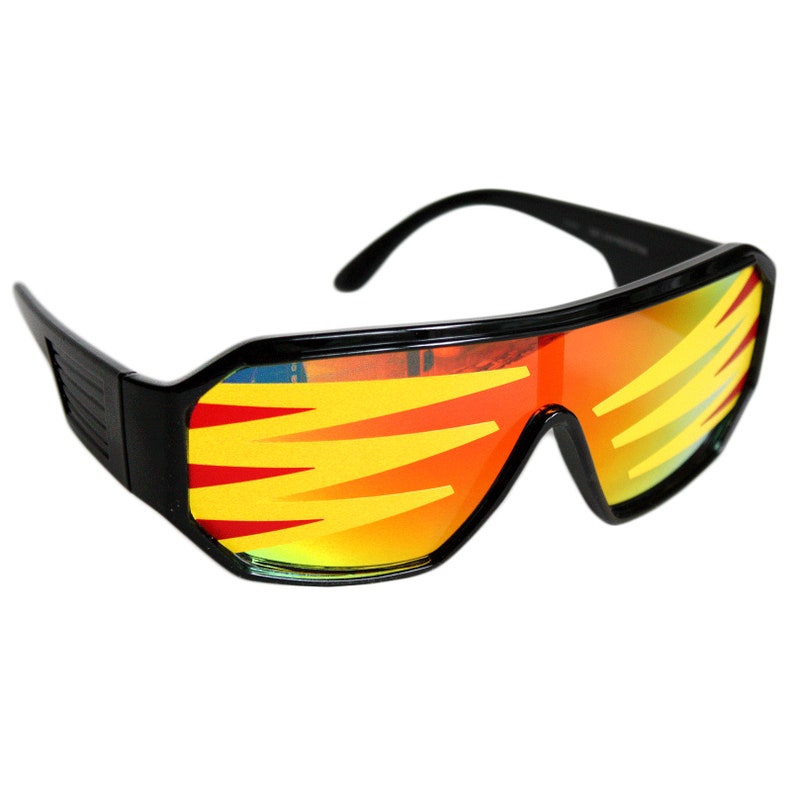 Macho Man Glasses are among the trendiest bachelor party gift ideas for the boys. Wearing these glasses during a wild night out is sure to make everyone laugh. Besides, the groomsmen can wear these during the pre-wedding shoot to add a bit of humor to the photos.
These glasses by Rasslor are handmade, and they come in two colors. They feature oversized temples and a one-piece shield lens that look weird (but in a good way). Also, the lens features side spikes to give the wearer a badass look. The overall look is very retro, with a vintage vibe.
Would you be surprised if I told you that these glasses are actually functional as well? Well, they are! First, they're durable. These glasses are made from scratch-resistant and waterproof materials. Secondly, they have a protective coating that protects your eyes from harmful UV rays. Therefore, it's guaranteed that these sunglasses will take care of your vision while still looking cool!
---
6. Personalized Bachelor Party Hats
Courtesy by Amazon
If you want to give your friends something funny to wear during the party, then these hats are perfect. This set by Meinami features 10 hats, which you can customize with different colors and designs. You can embroider the hats' front and backside with hilarious phrases like "Bad Influence," "Shot King," Drunken Fool," or "Never Sober."
These hats are made from soft and breathable materials, making them comfortable to wear. You can also choose between cotton, mesh and washable canvas. They're available in 18 different colors, so you can find the ones that match your friends' style best.
---
7. Customized Zippo Lighter
Are you looking for classic bachelor party gift ideas? Consider gifting customized Zippo lighters. A Zippo is a reliable, affordable and easy-to-use product that has been around since the 1930s.
The lighter comes with a unique windproof feature that's ideal for lighting cigarettes outdoors. And, of course, all Zippos offer a crisp signature click that no other lighter can match. The best part about Zippo lighters is that they are refillable. In fact, you can order refills online, or visit your local retailer to pick up a few. The product is also backed by a lifetime guarantee.
You can customize a Zippo by choosing the design and text you want to engrave on it. The lighters are available in different finishes, such as various shades of chrome and matte.
Buy Now: $18.95 – $32.95 | zippo.com
---
8. Fishing Lure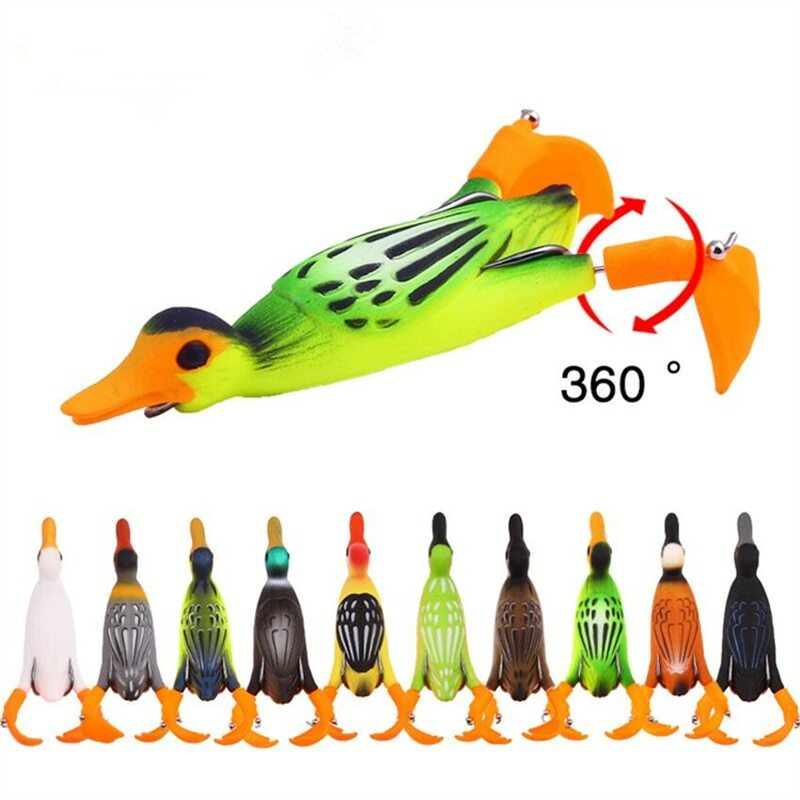 If you're planning a fishing trip after the wedding, why not throw in some cute lures for the guys like this one? It's an excellent way to get them excited about your upcoming adventure.
This lure features a cartoonish flipper duck design and a barbed double hook. The design is pretty cute and funny, but the product isn't just about the look. It's also very effective at attracting fish. This lure is made from high-quality silica gel that allows it to stay afloat and move easily. It's non-toxic, which makes this lure a safe choice for your fishing trip.
---
9. Hydro Flask 12L Carry Out Soft Cooler
Every man needs a cooler when he goes on a camping vacation. For a bachelor party gift, however, you should go for a more stylish and portable option than your average cooler.
This makes the Hydro Flask 12L Carry Out Soft Cooler a great gift. Unlike regular coolers, it's super lightweight, easy-to-carry and ultra-durable. It offers 12 liters of storage space, which is enough for drinks you might need for a day out anywhere. It can fit up to 20 cans of your favorite beer or soda, plus ice.
Furthermore, this cooler has a removable cross-body strap that lets you carry it wherever you go. As a bonus, its closure uses powerful welded seams to ensure that it doesn't leak. The product comes in two attractive colors, including Baltic and Blackberry
---
10. BrüMate Hopsulator Insulated Bottle Cooler
Another way to keep your beers cold is by using a coozie. These are perfect for keeping your beer cold while you're out and about. The BrüMate Hopsulator Glass Bottle Coozie will help keep your drink chilled until the last drop. This handy product can fit most standard 12 oz beer bottles, and even soda cans. It's very compact, so you can take it with you anywhere you go.
The insulated bottle cooler features triple-insulated stainless steel walls. This is guaranteed to keep your beverage up to 20 times colder than a regular can cooler.
It features a push-lock gasket technology that secures the beverage firmly, so it won't accidentally detach. Also, the product has a non-slip base for added stability. With this coozie in hand, you can enjoy a cool and refreshing beer wherever your groomsmen are.
---
11. Tasting Beer: An Insider's Guide to the World's Greatest Drink
If you want to give your friends a book that will educate them about beer, this is the one. Tasting Beer is one of the most definitive guides to the world's greatest drink. Acclaimed master of brewing science and author Michael Jackson wrote the book. It presents the reader with an in-depth look into how people around the world enjoy this drink.
Tasting Beer includes an analysis of craft beer trends, and different food and beer pairings. It also covers sensory evaluation guidelines that will help your friends to appreciate the tastes of and scents of different types of beers. These include ales, lagers, weissbeirs and Belgian beers.
Buy Now: $14.98 | barnesandnoble.com
---
12. Westmark Germany Hermetus Steel 3-in-1 Resealer Beer Bottle Opener
If you plan on drinking a lot of beer during your bachelor party, make sure you have a bottle opener with you. The Westmark Germany Hermetus 3-in-1 Resealer Beer Bottle Opener will help you do just that.
This product is one of the most convenient beer bottle openers on the market. You can use it to remove the cap, or to twist off the top of almost any bottle without any hassle. Can't finish your beer? No problem! You can use this item to reseal the bottle if you want to save some beer for later.
---
13. Accoutrements Emergency Underpants
For the ultimate bachelor party gift, you could always go for a gag gift. They're generally very cheap, but they can be surprisingly useful.
One great example is a silly yet practical pair of emergency underpants. Just imagine if someone gets wasted, and then accidentally spills beer on their crotch. They'd be in big trouble. Well, not really if they have these underpants on hand!
---
14. Bachelor Party Hangover Recovery Kit
There's a strong chance that your groomsmen will wake up the next morning feeling miserable and hung over. So what do you get your friends? A hangover recovery kit!
This will help your friends restart the next morning. This can contain everything they'll need to feel better faster, including headache medicines, electrolyte supplements, gums and more.
And of course, you'd need a gift bag or box to put these in. And if you're going for something funny, this linen bag by Huastatewolf is a great choice. It looks like a regular goodie bag, but with a hilarious hangover theme!