Sometimes a wedding ring may not fit perfectly, and you may wonder, can engagement rings be resized?
Yes, it's possible to resize numerous types of engagement rings. But it depends on the metal and design. A jeweler will look at the engagement ring and advise you accordingly. They'll resize the ring up or down if the job is possible.
It's important to think carefully before you opt to resize an engagement ring. Remember, it might have cost a lot of money or is custom-made. Still, walking around with a bigger or smaller ring is uncomfortable, necessitating resizing.
Should I Resize My Engagement Ring?
No matter how beautiful and expensive, a poorly fitting engagement ring can limit how much you wear it. An engagement ring must often be on your finger at all times. However, that's not possible if the ring keeps slipping off or is too tight.
Therefore, you should resize an engagement ring if you don't feel comfortable. There's too much risk of you losing it if it's too big. And it can cause all manner of problems with your finger if you keep wearing it while too tight.
Yes, the ring is perfect as it is. However, resizing a poorly fitting engagement ring makes it even more precious. When you opt to resize, consult a jeweler who can assess the engagement ring and give you professional advice.
This is crucial because resizing takes delicate effort to go up or down in size. In addition, they need to know how to handle any precious stones on the ring. Also, a jeweler will let you know if resizing your engagement ring is possible.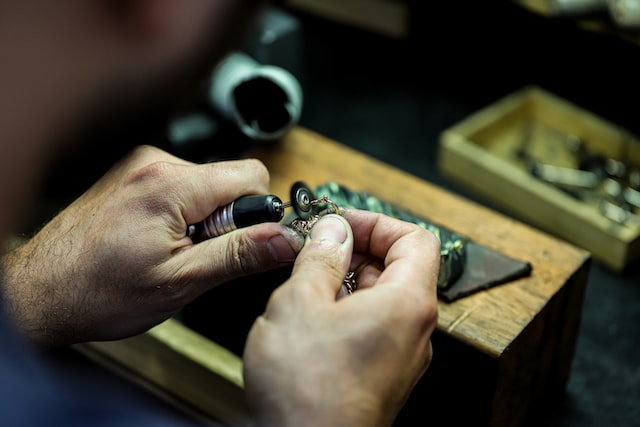 Sings an Engagement Ring Needs Resizing
Are there signs that an engagement ring needs resizing? How can you tell that it's time to see a jeweler?
Resizing an engagement ring is necessary, and some signs alert you. The most common sign is a poorly fitting ring, as mentioned above. Wearing it as is can be risky. So, you must adjust this ring before you continue wearing it.
Size matters when it comes to ring selection. This is why it's important to know your fiancé's ring size before placing an order. That way, you can avoid issues with resizing after popping the big question.
How to Get an Engagement Ring Resized
Can engagement rings be resized? Yes, an engagement ring can be resized. However, you must speak with a jeweler to find out if this is possible. Once they take a look at the engagement ring and give you the green light, they can start resizing.
Depending on your requirement, the best way to resize an engagement ring is to make it larger or smaller. This means they either tighten or loosen the fit, so the ring feels comfortable when on your finger for long periods.
A jeweler needs to stretch the metal when making an engagement ring larger. However, for this to succeed, they need to understand the type of metal. Jewelers use a special stretching tool known as a ring stretcher.
There are two types of ring stretchers. The first is a traditional ring stretching tool that's been in use for a long time. However, modern jewelers have come up with a second tool. This stone set ring stretcher resizes rings with a precious stone.
While a jeweler can stretch the metal of an engagement ring to enlarge it, there is another method. This is where they add metal to your engagement ring to make it fit better. This is a better method when the resizing requires more than half a size adjustment.
It's also necessary to make a large ring smaller to fit your finger better. In this case, resizing involves cutting the ring's metallic part when resizing. A jeweler begins by cutting the unwanted part. Then they will join the two ends by soldering.
Jewelers do a good job restoring the ring's smoothness and appearance. This makes it hard to note where they cut to remove metal on it.
Some jewelers prefer not to cut the ring. They opt to use sizing adjusters to create the best fit. These resizing tools can only work when you need resizing that's half the ring's size.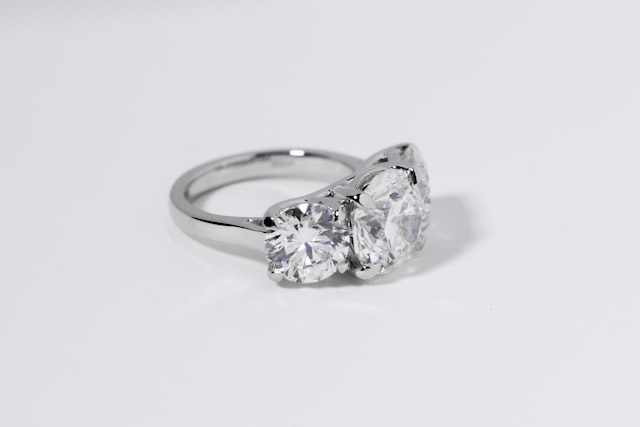 Can Engagement Rings Be Resized Without Getting Damaged?
As you consider resizing an engagement ring, it's normal to worry about damage. This is why it's better to take the ring to a jeweler for assessment. A professional jeweler will advise you well, and they have the right tools for the job.
Resizing a ring is necessary for a comfortable fit. This involves cutting the metallic part to add or remove parts of the ring. That's not an easy job and requires delicate hands to make the entire process run smoothly. And it's also crucial to know how much resizing a ring will require.
Rings get resized. This isn't a new concept. But, it's important not to do this too often as it can lead to damage. Also, taking away too much of the ring can cause resizing problems. A jeweler must know how many sizes up or down a ring needs. This helps to minimize the risk of damage.
Which Engagement Can Rings Be Resized?
Most engagement rings are made using metal. Knowing which engagement rings can be resized is crucial before you speak with a jeweler. The rings that can be resized include:
Yellow gold engagement rings
White gold engagement rings
Sterling silver engagement rings
Are There Engagement Rings That Can't Be Resized?
Not all engagement rings are ideal for resizing. Some materials are best left alone such as:
Eternity engagement rings with gems all around
Rose gold engagement rings
Engagement rings with a large gemstone held in place by pressure
Titanium engagement rings
Getting a Ring Sized Up or Down: Which is Easier?
Is it easier to resize a ring up or down? Adding the size of a ring can be tricky. This is why many jewelers prefer when you need a ring to have a smaller fit.
All a jeweler needs to make a ring smaller is to cut a portion of the metal. Then, they can solder the two ends together and polish the ring to restore its former state. But, this isn't the only way a jeweler can make a ring smaller, and they must consider the number of sizes to reduce.
Sizing a ring up takes time and effort to get right. This calls for stretching the ring without causing damage. In other cases, the jeweler has to cut the ring and add more metal to make it bigger. That's a process that takes time and dedication to complete.
How Much Does It Cost to Have a Ring Resized?
Now that you've opted to have your engagement ring resized, it's time to focus on the cost. The amount of money a jeweler will charge for resizing depends on several factors. At the top of the list is the number of sizes a ring has to go up or down.
Also, the thickness of the ring and type of metal the jeweler has to cut or stretch to resize. Jewelers also consider the number of stones on a ring. The cost increases if your engagement ring has numerous stones.
So, how much can you expect to pay for resizing? Costs range from $20 to $ 60 when it's a simple resizing of an engagement ring. If your ring requires more work, you can pay anywhere from $50 to $150 for the entire process.
Usually, yellow gold, sterling silver, and white gold cost less to resize. But, if your ring is made using rose gold, tungsten carbide, platinum, or titanium, be ready to dig deeper into your pockets.
How Long Will Resizing an Engagement Ring Take?
The duration of resizing an engagement ring can vary. It's possible to have your ring back after only a few hours. But, this is only if the jeweler finds the resizing simple enough to complete in such a short time.
Complex resizing can take weeks to complete. They must take their time since a rushed job can cause damage to your precious engagement ring. In addition, resizing takes time because of the type of material and things like ring thickness.
When you take a ring for resizing, speak with your jeweler about how long it will take to get the job done. They can give you an honest timeline to ensure the ring fits perfectly. Also, you can learn if there are other options apart from resizing.
Are there Other Options for Resizing an Engagement Ring?
It's can be possible to ensure your engagement ring fits properly without resizing. If the ring slips a bit but still remains on your finger, it's better not to have it cut. Instead, there are tips to make the ring fit more comfortably.
Get A Sizing Bar
Speaking to your jeweler can be an eye-opening experience. They can add a sizing bar to your engagement ring, giving it a better fit. The bar has a U-shape, and the best way to attach it to the ring is by soldering.
This sizing bar has a hinge and a latch. You need to open the latch to put the ring on, then close it to keep it in place.
Add Sizing Beads
Another method to enable the ring to fit better is by soldering small metal balls to the inner part of the ring. These balls are smooth and ensure the ring has a snug fit when sitting on your finger.
Insert A Spring
The third method is by installing a small band with a shape similar to a horseshoe. This band goes to the inner part of the ring and springs open when you want to put on or remove the ring.
Conclusion
Can engagement rings be resized? Yes, getting your engagement ring resized by a professional jeweler is possible.
An engagement ring is precious and one of the jewels you'll wear for a long time. If you find the size not flattering to your finger, it's better to consider resizing. Usually, a ring can have a loose or tight fit that feels quite uncomfortable.
The good news is that professional jewelers know and understand how to resize engagement rings. So, it's best to visit them. Resizing an engagement ring will depend on the metal and the number of sizes it needs to go up or down.