Have you been searching for the best Celtic designs wedding rings? Well, you can find unique and top-quality Celtic rings that are a perfect match. The history of Celtic rings is quite intriguing, and these rings are quite romantic.
Ancient Celtic tradition inspires the design, and there are numerous rings you can choose from. In this article, you learn about Celtic rings' history and the best ones to choose for your big day.
What is the History Behind Celtic Wedding Rings?
Celtic designs wedding rings aren't new. Many people might find them alluring and trendy, but these rings have been around for centuries. Celtic wedding rings' design is unique and has a rich history.
The story goes that the first Celtic ring is over three centuries old. It was found in Claddagh, an Irish fishing village. While this is the most popular story about the origin of the rings, there are many others. Even one states the Celtic ring was dropped on a widow's lap by an eagle flying above.
Still, these rings have always been popular, especially among royalty and nobles. Queen Victoria is among the royals who made Celtic rings famous. The tradition went on with Princess Grace of Monaco loving Celtic rings.
Given the top quality of Celtic rings, they remain as family heirlooms passing from one generation to the next. These rings come in different styles and symbolize different things, including marriage. Today, it's not uncommon to see couples going for Celtic design bands as their rings of choice.
Are there Different Styles of Celtic Design Rings?
Yes, there are different types of Celtic design rings. Mainly, you can find three distinct types of rings. These include:
The Trinity Knot
The Trinity Knot or the Celtic Knot has a unique pattern that loops on a band. These rings have three distinct points with different meanings: past, present, and future.
Claddagh
One of the most popular and revered Celtic ring designs is Claddagh. This classic ring contains two hands clapping a heart-shaped diamond in the middle. There's always a crown set on top of the diamond.
Celtic Warrior
Are you looking for a more adventurous ring? The Celtic Warrior is a great option since it contains warrior shields and engravings. Men love these bands and often choose them as ideal wedding rings.
What to Look for in Celtic Designs Wedding Rings
So, now that you know the origin of Celtic rings and the three distinct types, it's time to choose the best one. Rings are a great part of any wedding, so you must pick the right one by considering its durability.
Quality is essential when picking a wedding ring. You want to pick one that will last long without refurbishing or replacement. This is why it's always good to go with rings made using good-quality metals like gold, silver, or platinum.
Apart from quality, you also have to think about the design. Celtic wedding rings come in different designs and sizes. The list below details different ring designs perfect for the lovely couple and states the available sizes of each ring.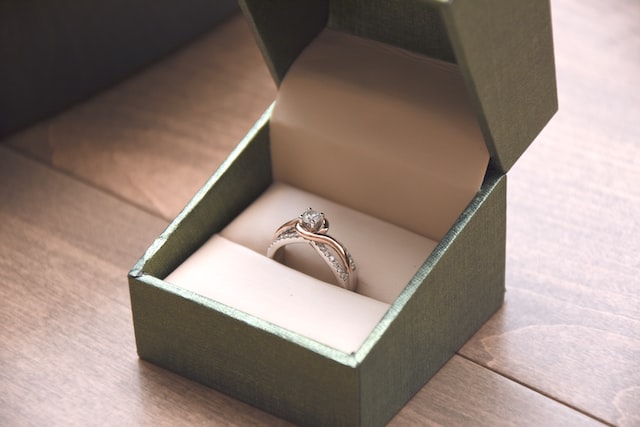 The Best Celtic Designs Wedding Rings
1. Endless Irish Knot Band Ring
Celtic wedding rings are a huge hit and come in amazing designs. A good example is the exquisite Endless Irish Knot Band Ring. It features a traditional Celtic patterned design with special meanings. The design represents endless friendship and everlasting love for the happy couple.
This Celtic wedding ring is made using sterling silver 925 by Ukrainian artisans and gets imported to the US. It's lead and nickel-free and also hypoallergenic. It weighs 2.8 to 3.5g and has a ¼ inch width.
Ring sizes range from 5 to 14, so specify this before placing an order. It comes in an elegant gift box with a lovely label and is ready for a big surprise or event.
2. Ladies Claddagh Wedding Ring
The Ladies Claddagh Wedding Ring bears a narrow design and is quite elegant. This is an authentic Irish wedding band that bears a rich Celtic heritage. It's made in Ireland using quality sterling silver and bears the Irish Assay Office mark.
Are you getting married soon and want unique Celtic wedding rings? You can never go wrong with this band that bears the Classic Claddagh features. This comprises a crown, hands, and heart. These symbols are all around the ring, creating such an authentic design.
In terms of width, the ring is 1/8″ wide, with sizes ranging from 5 to 8.5. The top-quality Celtic designs wedding rings don't tarnish and remain beautiful even when worn every day.
3. King Will Classic Tungsten Carbide Ring
King Will is one of the most trusted brands regarding unique wedding rings. Here, you can get the gorgeous King Will Classic Tungsten Carbide Ring for your wedding. It's a high-quality wedding band featuring an innovative Celtic design.
This authentic Celtic band uses tungsten carbide and has a black background as its inlay. The ring is comfortable to wear for extended periods and is durable. King Will ensure the ring I have a good weight, is hypoallergenic, and is anti-scratch.
The 180-day warranty service also covers manufacturing defects and issues with sizing. Ring sizes range from 6 to 15.
4. MEALGUET Celtic Fidget Ring
Men who enjoy authentic Celtic design wedding bands will love MEALGUET Celtic Fidget Ring. This gorgeous vintage stainless-steel ring features the Celtic knot pattern design. The design symbolizes an in-depth connection between life, friendship, and love.
Apart from being a wedding band, this is also a superb Meditation ring that can help ease anxiety. This is possible by soothing your nerves and changing your mood. As a result, you can enjoy better focus as you go about different activities.
The stainless-steel material guarantees durability since you won't have to endure rust or tarnishing. This lead and nickel-free wedding band work for sensitive skin. It comes in sizes 7 to 13 and weighs only 7 g.
5. Knot Theory Engraved Silicone Ring
Silicone wedding bands are quite popular since most people find them unique. However, one issue is most of these rings tend to look alike. This is why Knot Theory Engraved Silicone Ring is a fantastic option when the goal is to stand out.
This ring features the classic Claddagh Trinity Celtic design with a double-layer engraving. It's made using comfortable and breathable rubber that gives you a comfortable fit. Each ring has a 6mm width, and sizes range from 4 to 15.5.
You can choose numerous colors like Celtic, antique gold, metallic red, silver, dark silver, and champagne gold. This is a good ring to have on when you do lots of physical work, go to the gym, or spend time outdoors.
6. US Jewels and Gems Men's 925 Sterling Silver Ring
US Jewels and Gems Men's 925 Sterling Silver Ring is another amazing Celtic design wedding ring. The design is also a great stress reliver meant to ease anxiety and help you remain calm. It has the Celtic endless love knot with an oxidized polish finish.
The ring is made using top-quality 925 sterling silver. Its width is 8mm, and sizes start from 8 to 13. This is a perfect wedding ring for men with two bands. The inner layer of the ring remains movable, so you can spin it to relieve stress.
7. SISGEM Infinity Love Band
The Celtic love knot remains one of the best bands available. You should check out SISGEM Infinity Love Band with an infinity symbol. Folks who wear this ring enjoy a love that flows eternally and grows deeper and deeper.
This unique ring is made using top-quality materials comprising 58.8% pure gold (14K). Gold in other parts, not just the top, prevents this ring from tarnishing or breaking easily. It's a hypoallergenic wedding band that is ideal for sensitive skin and free from lead, cadmium, and nickel.
There's a perfect polished finish that makes the ring even more attractive. The ring parameters comprise 21 pieces of diamond that cover the infinity symbol. Sizes range from 5 to 11, so it's good to know the right one before placing an order.
8. Innovato Design 8mm Celtic Dragon Tungsten Carbide Ring
Men looking for a one-of-a-kind wedding band will delight in the Innovato Design 8mm Celtic Dragon Tungsten Carbide Ring. The best part of this Celtic design-inspired ring is the colorful inlay that can be blue, green, or red.
This Celtic dragon ring is made using quality tungsten carbide and has an artistic black outer cover. The inner layer is smooth, making it super comfortable when working. It's a nickel and lead-free band made with hypoallergenic materials.
Available sizes start from 7 to 16. Celebrate great style by picking the correct size. This durable ring is stylish and scratch-resistant. You don't need to worry about tarnishing or fading when ordering this wedding band.
9. TGDJ White Gold Wedding Band
Are you looking for the best wedding rings with real gold? TGDJ White Gold Wedding Bands fit this category since they contain 14k and 18k real gold. These are top-quality solid rings that are always shiny and durable.
The Celtic knot design on the 7mm rings brings elegance and boldness to those who wear them. The minimalist modern design comes in different sizes, from 5 to 13. Each has a smooth and shiny finish and isn't prone to discoloration even after wearing it for a long time.
The best part is you can get a customized engraving on each ring once you place an order.
10. SOMEN Eternity Celtic Knot Ring
Stylish silver rings can make quite a statement and always look elegant. The SOMEN Eternity Celtic Knot Ring is a perfect pick when you want an all-silver wedding ring. It features an intricate weave braided Celtic style.
This ring's design represents love and eternity for those who wear them. However, it's important to note the delicate nature of the ring. It oxidizes easily, so it's better to steer clear of products that can cause corrosion.
The good news is different sizes range from 3 to 13 on this 100% genuine 925 Sterling silver Celtic 4mm ring. The amazing polished finish makes it an elegant wedding band.
11. Morgan and Paige Green Jade Celtic Ring
The Morgan and Paige Green Jade Celtic Ring is the perfect statement wedding band. It features the traditional trinity knot that blends well with different styles. This is a handcrafted ring made using 100% pure 925 sterling silver.
It contains a genuine green Jade stone in the middle of the trinity knot. This is a hypoallergenic ring that's free from nickel and lead. It's rhodium-plated, durable, and has that perfect shiny finish. It's only available in size 9.
12. Celtic Rings Silver Endless Knot Ring
The gorgeous Celtic Rings Silver Endless Knot Ring is ideal for men. This ring has a beautiful Celtic cross design at the center, and the sides feature the traditional trinity knot band motif.
It's made using pure 925 sterling silver and has a green CZ center stone. The best part is this is a ring made in the US, and sizes start from 4 to 16. This ring can also be a great gift for your partner when renewing your vows of eternal love.
13. DAOCHONG Good Luck Irish Ring
Lastly, there's the DAOCHONG Good Luck Irish Ring. It features the trinity woven knot and is the perfect ring for women. Each band has only one thread, symbolizing the interconnection between life and eternity.
This ring is made using 925 sterling silver, and available sizes are from 5 to 11. The elaborate design can be quite captivating. The best part is this ring is free from lead and nickel. It glows thanks to the perfect polishing.
Conclusion
There's a wide variety of Celtic designs wedding rings you can choose from. However, it's always good to know what you like in style and size. In this list are 13 gorgeous Celtic-inspired rings that are perfect as wedding bands.
They're made using top-quality materials, durable, and free from allergy-causing items like lead and nickel. The best rings also feel comfortable when you wear them and can be stylish.