Oh to be in love. Don't you want to give the world to him! But when it comes to finding some grooms gifts ideas from bride, it's hard to decide. According to wedding traditions, it's customary for the bride and groom to exchange gifts.
You know about his likes and dislikes, and yet, deciding the right wedding gift for him is almost impossible. Before you begin looking for the perfect gift for him, decide whether you want to buy something sentimental or useful.
A sentimental gift will signify something special about your relationship. For example, if you met near a big tree in a public park, you might want a miniature replica of that tree. However, a useful gift will be something that he has always wanted. For example, a new music system for his car.
How much should you spend on grooms gift ideas from bride
Ideally, the best gift would combine sentimental value with something useful. Let's take a look at some grooms gifts ideas from bride that are useful and also hold an emotional value for both of you. But before that, let's decide on a budget.
While it's customary for the bride and groom to exchange gifts, there are no rules on how much you should spend. If you're afraid your husband might spend more than you (making your gift look smaller in comparison), it's best to discuss it with him beforehand and decide on a budget.
Or if you don't have enough money on hand (weddings are expensive), you can try DIY ideas. A handwritten note or a letter would suffice.
Whatever budget you decide for the gift, you should discuss it with your significant other so there are no misunderstandings later.
Groom gift ideas from bride
Depending on the taste of your husband, you can take a pick from the ideas suggested here.
1. A beautiful watch
Let him know that he is on your mind all the time with a stylish watch. If your budget allows it, go for a Rolex. However, if you don't have the budget for Rolex, there are other prestigious brands as well. For example, you can go for Omega or Fossil.
A high-quality watch will mean it will last for decades and can be passed on to your children as a family heirloom.
You can make the watch even more special by personalizing it. Get a note or a phrase written on the leather strap. It could be your wedding date or something simple as "I do." Or it could be the bride's and groom's initials.
In some cases, the watch box can also be personalized. Confirm the personalization options from the seller before ordering.
---
2. A whiskey box
Since most men are fond of whiskey, it's among the best grooms gifts ideas from bride. Whether he's a whiskey connoisseur or just enjoys a couple of drinks in his man cave, he'll appreciate a wooden whiskey box. It typically contains two whiskey glasses, two wooden coasters, whiskey rocks in a pouch, and one pair of tongs.
The whiskey stones could be made of steel, marble, or granite. You can also get customized wooden boxes with your personal note written on them. Since a wooden box has enough space on it, you can get a phrase engraved on it – something that's special for both of you.
---
3. Honeymoon tickets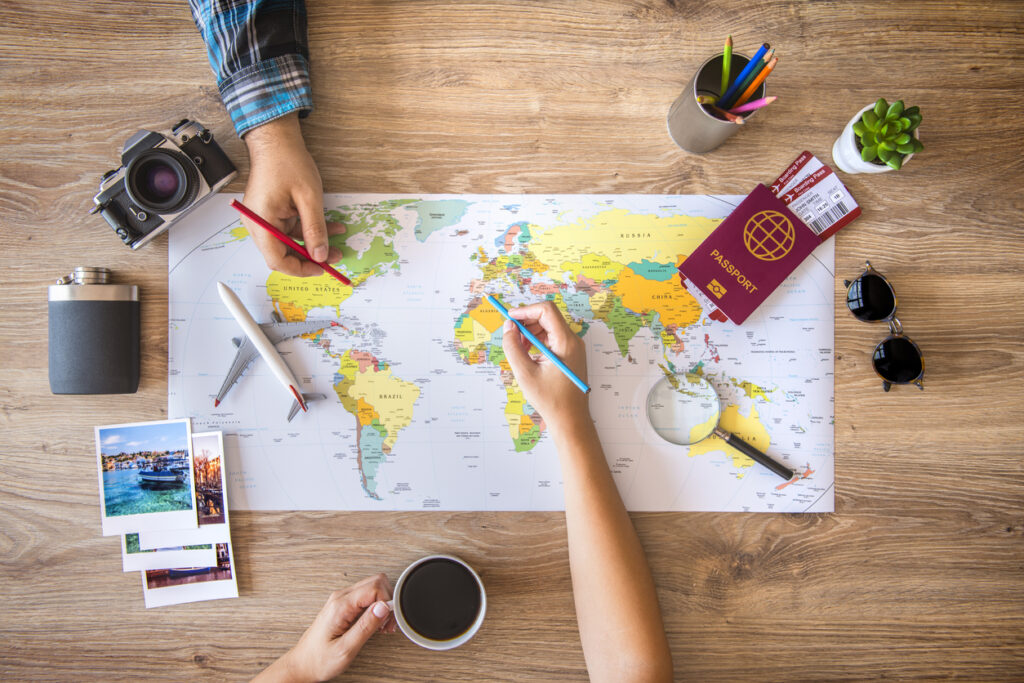 Now, this is something he will definitely enjoy. You're in that honeymooning period and a quiet getaway is something all young couples need. If you know his favorite destination or a place he has always wanted to visit, getting two tickets to the place will be a happy little surprise for him – certainly one of the best grooms gifts ideas from bride!
There's no better way to pamper him than being together in bliss. Enjoy the beauty of nature or have the best nightlife ever – decide the destination based on what kind of vacation you both want.
There are so many honeymoon ideas – you can go camping in the lush wilderness, lost in each other. Or you can go to a quiet little island. You can also have a cruise honeymoon or escape to a surreal world of a winter wonderland. You can go touring in Europe or take long walks on a beach with white sand. There are so many ideas to explore!
---
4. A fun gift
Are you a fun gal? Make sure you have some unique gifts for your man. If you're looking for some fun grooms gifts ideas from bride, let's help you out. You can get a box and put different gifts in it. For example, you can get custom-printed socks for him that say, "just in case you get cold feet."
You can also get a chopping board with your wedding date engraved on it. So whenever you are mad at each other, you can cut vegetables on it. Or you can get a soft cushion/pillow set for adorable pillow fights.
You can add your own ideas to make the gift more special. How about a DIY gift? A handmade gift is more special than anything you buy from the store. Include all these small gifts in a custom-made wooden box to make it a keepsake.
---
5. A unique gift
You might want to create something special for the two of you. If you're looking for unique grooms gifts ideas from bride, a book about your love story would be an ideal gift. If you are good at writing, you can write your own book.
And if you can't do it, you can consider hiring someone to do it for you. There are freelancers available on websites such as Fiverr. You can tell them about your story and they can pen it down for you.
If you're not too much into books, you can get your story done in the form of a comic book. You can find comic book creators on websites such as Etsy. Or you can also get a map printed of the location where you first met. It can be printed on canvas and can be labeled as "where it began."
The idea behind a unique gift is to give something that holds a special value for both of you.
---
6. A luxury set
Men generally don't spend too much on luxury. You can give him a luxury grooming kit with a soft robe. A grooming kit can contain a beard trimmer, Eau De Parfum, body wash, face scrub, shampoo, face wash, and a lot more.
And the best way to use it is by giving him an at-home spa where you pamper him with the most luxurious treatment. You can also include other grooming accessories in this luxury set. In fact, you can get it in an engraved wooden box too.
If your man works hard all day long, he'll love receiving a beauty treatment from you.
---
7. A music system
If he's an audiophile, pleasantly surprise him with a high-quality music system. Companies such as Sony and Bose are known for their high-quality sound systems. Get a product that offers superior sound quality and offers style as well as functionality.
A good music system will also entertain guests when you host a dinner party. And it will set the mood when you want to have an intimate candlelit evening at home. High-performance audio will make your music richer and more enjoyable.
There are several music systems with amazing features. Make sure you buy a high-quality system that lasts over decades. Depending on your budget, you can buy a whole-house audio system controlled by a phone app. No matter which room you're in, you can set the mood there with the right music.
---
8. A cool gadget
Men are often fond of gadgets. What kind of gadgets does your man like? Maybe he likes a drone that can fly across fields and golf courses. Drones are amazing on vacations and you can take stunning photographs of your honeymoon.
Or you can buy him a 3D printer to print some awesome designs. If he's a tech lover, this can become his favorite toy. Some 3D printers are very easy to use and deliver fascinating results.
A barbeque grill can be an excellent idea too. If he likes to slow-roast a hotdog while chugging a chilled beer in the backyard, this is the perfect gift for him.
And if he's a sports guy, a GoPro would be the ideal gift for him – something that he'd be wanting to buy for years (if he doesn't own one already).
For a guy who's into detective movies and TV shows, smart glasses would be the right choice. Or if he's a gaming freak, the latest console such as PS5 or Xbox Series X.
---
9. A gourmet food gift box
If your husband is a foodie, you can give him a gourmet food gift box. These food boxes could be sweet, savory, or a combination of both. If he's into savory things, you can find spicy treats (such as butter pretzels) to be included in the box. For a sweet taste, there can be candies, chocolates, and cookies.
And if he's health conscious, you can include different types of dried fruits and nuts in there. Or you can combine all three types and create a big gourmet hamper. You can also include gourmet coffee if he's a coffee lover. There are so many foodie grooms gifts ideas from bride.
There are personalization options as well so you can personalize your gift box by getting it engraved. Make sure you write a special phrase or a note for him. Or get it engraved with the wedding date. A gourmet snack box would also pair well with a whiskey box.
---
10. A kinky gift
You're finally going to get married to your dream man. Show him your naughty side with these kinky grooms gifts ideas from bride.
Personalized underwear would be a sexy gift for him. You can write "property of" and then add your name. Another idea is to have a candle that comes with a note "light me when you need a BJ."
There are several sexy games available on Amazon and you can buy one of those. Some of them include rolling naughty dice. Others are card games. Select the right one based on your preferences.
If you haven't already created a boudoir album for him, now is the right time to make one. Take some tasteful and sensual photos and get them printed in the form of an album. This would be an amazing gift for your husband.
Or you can get a coffee mug printed with seductive messages such as "Thanks for the amazing time in bed," "World's sexiest man," or "You OWN me."
Short on time?
While personalizing your gift would be the best, sometimes, you don't have enough time on your hands. Engraved wooden boxes look amazing but you might not be able to get them done on time.
In that case, you can skip the personalization part and spend time finalizing the wedding event details. Has the groom prepared his dance with you? And his dance with his mother? Now is the time to get started. Here are some mother-son dance ideas for him.