You've chosen your venue, set a wedding date, and said yes to your dream dress. Now it's time to plan and purchase your wedding flowers! Not only will you need a bridal bouquet for yourself, but also flowers for your bridesmaids. But how much are bridesmaid bouquets?
When it comes to bouquets, there are a wide variety of options available at different price points. In this article, we'll discuss the average price you should expect to spend on bridesmaid bouquets as well as ways you can save money. Let's dive in!
The Average Cost of Bridesmaid Bouquets
The average cost of a bridesmaid bouquet is between $60 and $75, with higher-end bouquets sometimes costing $100 or more.
Bridesmaid bouquets are typically smaller and cheaper than bridal bouquets, but the cost still adds up. Here's a breakdown of what you should expect to pay depending on how many bridesmaids you have:
Budget for 4 bridesmaids: $240-$300
Budget for 5 bridesmaids: $300-$375
Budget for 6 bridesmaids: $360-$450
Budget for 7 bridesmaids: $420-$525
Factors That Affect the Price of Bridesmaid Bouquets
The average cost of bridesmaid bouquets varies greatly, but how much you'll actually be spending comes down to a few key factors:
Number of flowers: Smaller bouquets typically come with smaller price tags, while bouquets with more flowers will be more expensive.
Locally-sourced: You may choose to opt for flowers that are sourced locally and sustainably grown. If you decide to make eco-consciousness a priority at your wedding, just be aware that you'll likely be paying more.
Mixed vs. uniform bouquets: Instead of going with uniform bouquets, pairing cheaper flowers with expensive ones can help lower the price.
In season vs. out of season: Flowers that are out of season are more expensive because they're more difficult to obtain. It's a good idea to consider your wedding date so you can take advantage of seasonal blooms.
Types of flowers: Some florals are more common and easier to find, so they'll naturally be cheaper than rarer flowers.
Alternative bouquets: Who says you have to go with traditional fresh bouquets? Maybe you opt for artificial flowers instead. Or, go the unconventional route and make a "bouquet" out of non-floral items like candles, paper, or even wood!
To be sure you're getting the most bang for your buck, it's important to consider all of these factors and consult with a wedding florist at least 6-8 months before your big day.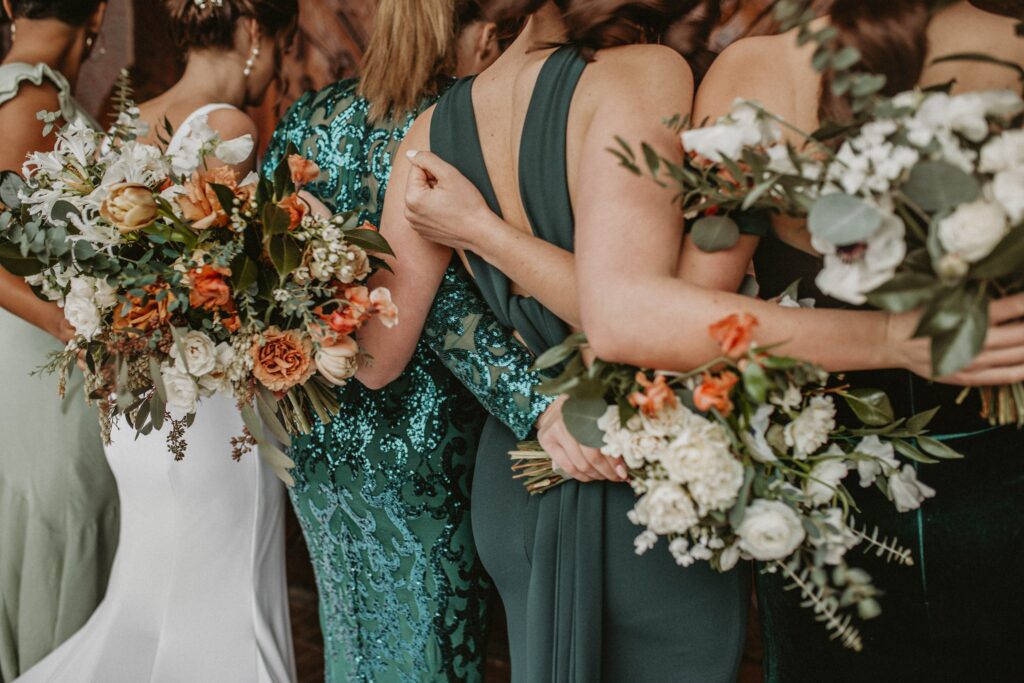 How to Save on Bridesmaid Bouquets
Purchasing bouquets for all of your bridesmaids can get pricey, but with a little bit of forethought and planning, there are plenty of ways you can save money.
1. Mix Inexpensive Flowers With Expensive Flowers
It can be tempting to buy flashy bouquets with the most expensive flowers. This will not only hurt your wallet, but also make a huge dent in your available budget that you could be spending elsewhere.
Try picking a more expensive and extravagant flower as a centerpiece for your bouquets. Then, choose one or two complementary flowers that are on the cheaper end. This will balance out the bouquets visually while drawing attention to the centerpiece flower. Your wallet will thank you!
2. Choose Flowers That Are in Season
Out of season flowers can be very expensive — not to mention difficult to find. One of the best ways to cut bouquet costs is to work with the season rather than against it. For instance, if you're getting married in the fall, plan your bridesmaid bouquets around flowers that are naturally in season at that time.
Not sure which flowers will be in season on your wedding day? Here are some ideas to get you started:
Spring: Daffodils, violets, hyacinths, irises, forget-me-nots, lilacs
Summer: Roses, poppies, hydrangeas, bergamot, dahlias, daisies
Fall: Chrysanthemums, petunias, roses, sunflowers, hibiscus, geraniums
Winter: Lenten roses, calendula, witchhazel, gardenias, winter jasmine, camellias
3. DIY Your Bridesmaid Bouquets
If you're up for a challenge, DIYing your bridesmaid bouquets can be a great way to save money. You don't necessarily need to be crafty, either — there are tons of video tutorials on YouTube that can teach you how to properly arrange a bouquet.
Ordering your flowers wholesale and putting them together yourself will be cheaper because you won't be paying for a florist's services. You might even consider making it a fun bonding activity with your bridesmaids. Invite everyone over for a sleepover, some drinks, and work on your bouquets together.
4. Consult With a Wedding Florist
It may be best to consult with a wedding florist for some insight. If your desired arrangements are out of budget, they'll be able to give you some similar suggestions that are more in line with how much you're willing to spend.
If you have no idea where to even begin, a wedding florist will be able to take your vision for the big day, wedding colors, and your budget and put together the perfect bridesmaid bouquets for your girls.
5. Go With an Alternative Bouquet Option
You might feel like you have to provide fresh bouquets for your bridesmaids, but that's not the case! It's your wedding day, after all, so it's completely up to you and what makes the most sense for your budget. If you don't want to do traditional bouquets, ditch 'em!
If you want flowers but don't want to pay for fresh ones, use artificial flowers. You can also search Pinterest for alternative bridal bouquets that are made completely out of non-floral materials.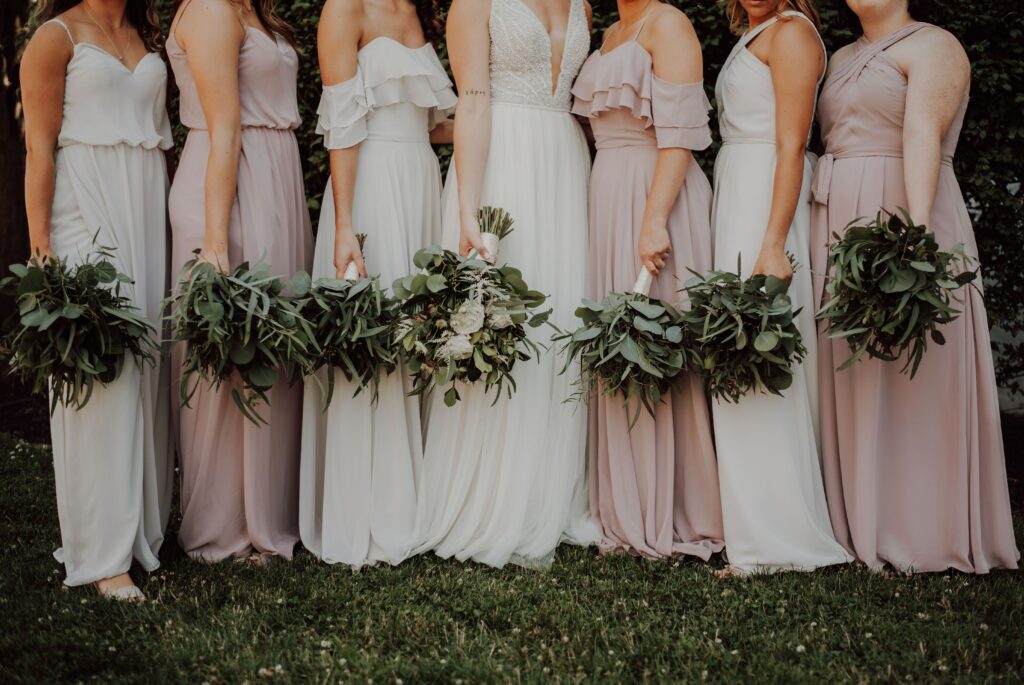 FAQs
Who pays for bridesmaid bouquets?
Typically, the bride and/or her family are expected to cover the cost of bridesmaid bouquets. If you're looking for areas to cut costs in your wedding budget, you may consider asking your bridesmaids to pay for their own bouquets, but this isn't the norm.
How many flowers should be in a bridesmaid bouquet?
There aren't any set rules for how many flowers should be in a bridesmaid bouquet. The number of flowers will mostly depend on the style of bouquet you're going for. For medium bouquets, between 6 and 8 stems is a good number to start with.
Do bridesmaids have to carry bouquets?
It's your wedding, so if you don't want your bridesmaids to carry bouquets, it's totally fine to skip them! Whether you're trying to cut costs or you just don't like the look of floral arrangements, it's all up to you. Perhaps instead you go with an alternative bouquet option, or cut them out altogether and let your bridesmaids walk down the aisle empty-handed.
What can bridesmaids carry instead of flowers?
If you'd prefer to go the unconventional route, consider having your bridesmaids hold something other than traditional flower bouquets. You can go with alternative non-floral materials, such as:
Paper flowers
Candles
Pinwheels
Lanterns
Parasols
Embroidery hoops
At the end of the day, how much you choose to spend on bridesmaid bouquets is up to you. However, you can probably expect to pay about $60 for flowers per bridesmaid. Now that you have an idea of the cost and factors that impact it, you'll be able to determine a realistic budget and make a plan to stick to it.