Getting married in Hawaii is a dream for many young couples. Of all the Hawaiian Islands, Maui is the most exquisite, which is why people often look for Maui wedding packages during the peak season. This island is known for its white sandy beaches, gleaming turquoise waters, golden sunsets, and charming coastlines.
Maui is the perfect place to read the vows with your special someone. Whether you want to get married in lush tropical gardens or fairytale palaces, you'll find all types of venues here. There are options for grand celebrations as well as quiet elopements.
About Destination Weddings in Maui
Why Get Married in Maui
This magical island offers exceptional venues that provide customizable Maui wedding packages. It's a dream destination that has appealing sceneries, enchanting churches, and modern amenities. Tie the knot in glamor, surrounded by pristine beaches, crystal blue waters, and regal palm trees.
With such a diverse variety of venues, Maui will make your special day even more memorable. Wedding planning takes a lot of effort. However, when you get married in Maui, most resorts and hotels will take care of the little things so you can relax and explore the beauty of the place while they handle everything.
Average Cost of a Destination Wedding in Maui
You can get married in Maui for as little as $2500. For that amount, you can get a beach elopement for up to 6 guests and 1 hour of photography. You can add extras such as bouquets, flower crowns, and music by paying extra.
For up to 30 guests and 3 hours of photography, the costs will go up to $3800. According to the state law, there cannot be more than 30 guests on the beach.
You can also get venue-based Maui wedding packages for as little as $3575. A two-course meal at a good hotel will cost you around $50-$70 per person.
The Best Maui Wedding Venues & Maui Wedding Packages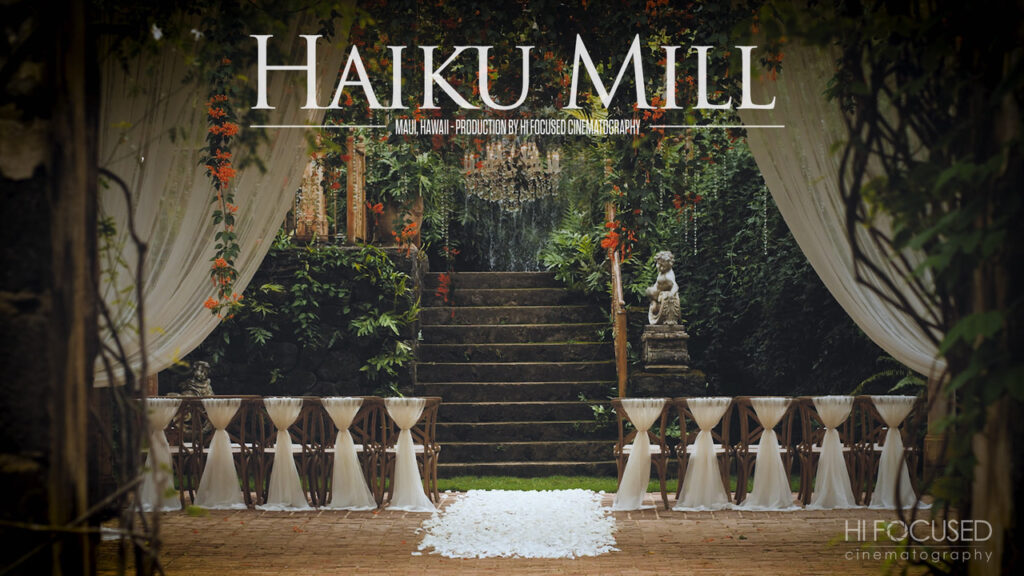 The romantic vibes, charming relics, and stunning botanicals of the historic Haiku Mill make it look like a magical land. Also known as the castle in the jungle, Haiku Mill is like a scene from a fairytale.
This once-sugar-mill is located off the road to Hana and gives the appeal of old-world Europe. If you want your celebrations to come to life and have lasting memories, Haiku Mill is the venue for you.
From the 100-year-old mango tree to the Cane Tree House, the entire place has an incredible allure. It's a private estate so when you tie the knot here, the place will be open only to your friends and family.
Since the entire place is beautiful, it opens opportunities for amazing photoshoots at various locations. The four major spots in the venue are The Mill, Cane House, Mango Tree, and Courtyard.
Each spot has its own unique features to offer. While the Courtyard is an ideal assembly place for the groom and his family, the Cane House offers the perfect gathering area for the bride's family.
The old Mango Tree is perfect for cocktail hours and The Mill is perfect for reading the vows.
---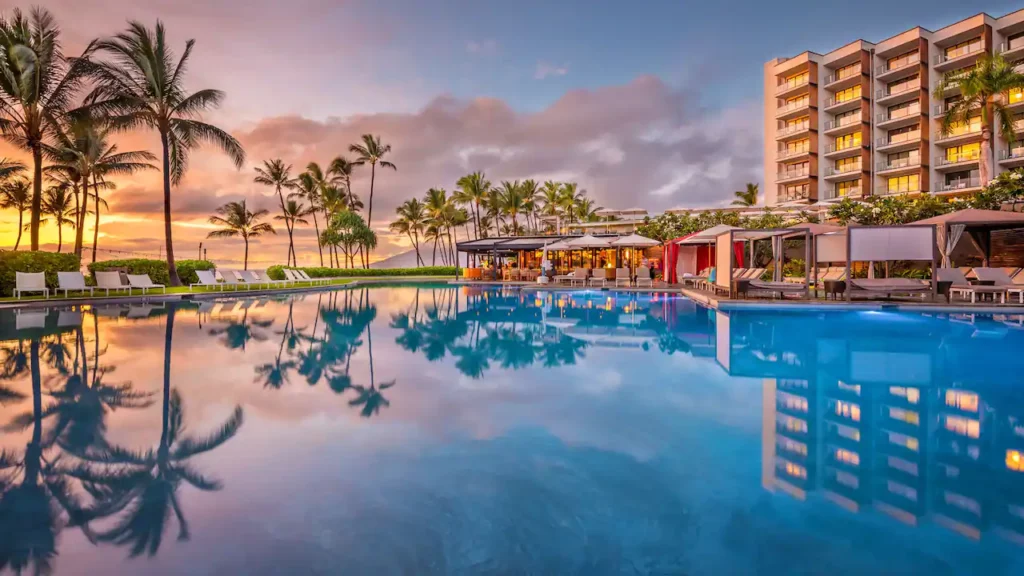 An extraordinary 5-star resort, The Andaz offers several settings for wedding celebrations. There are four major spots in this venue to choose from, and they all offer stunning views and amazing backdrops for wedding photography and videography.
Experience the radiance of a sunset reception with beachfront ceremonies as the sparkling oceans bask in the golden glow of the setting sun. If you're looking for a dream destination wedding with a solo musician, a bamboo canopy, a custom wedding cake, and a rose petal pathway, this is the perfect place for you.
The Andaz offers several Maui wedding packages for a range of budgets. With 15 beachfront acres, this luxury hotel set has an island spirit that makes you forget everything as you walk down the aisle.
There are 321 rooms including 21 luxury villas and 35 suites. There are five different types of pools in the pool complex where you can relax and soak up the sun or just go for a swim. The resort also has a lagoon pool, ocean-facing cascading pools, and an adult pool.
And if you have a furry family member you want to bring to your wedding, this would be the absolute ideal place for you as it is pet-friendly.
---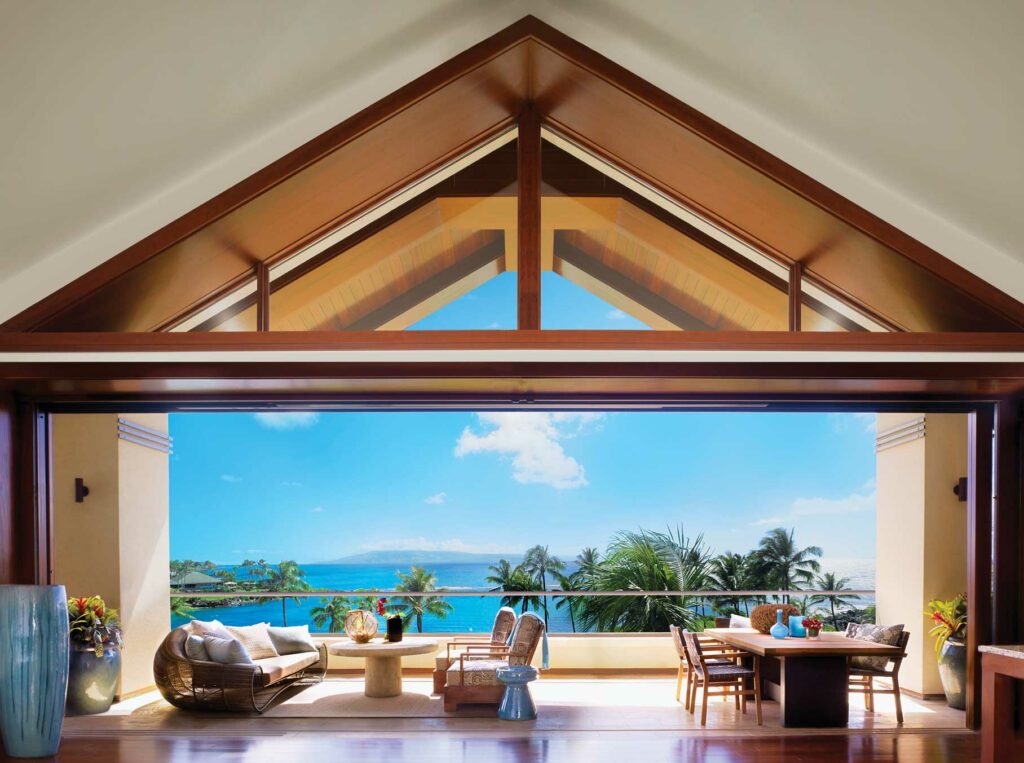 Situated right along the beautiful waters of Namalu Bay, Montage Kapalua Bay offers authentic Hawaiian culture and warm island hospitality. Indulge in the beauty of the 24 acres of this tropical paradise and experience the spirit of the place that offers a perfect sense of harmony and balance.
Montage Residence offers residential-style comfortable accommodations that present amazing views of lush gardens and glistening waters of the Pacific Ocean.
Experience the healing properties of Maui-inspired products in the spa here that offers personalized treatments. And of course, there's nothing like authentic Hawaiian cuisine made from locally sourced ingredients.
There is a historic Cliff House, a Spa Montage, two neighboring golf courses, zip lines, and tennis courts. Your guests will be able to relax and rejuvenate at this appealing place.
Enjoy contemporary cuisines with an Asian influence and head to the poolside for a sunbath. Enjoy handcrafted tropical cocktails made at the bar and then later in the evening, visit the Mahana Market for an espresso. There is so much to do, which makes it a good venue for an elaborate wedding with over a hundred guests.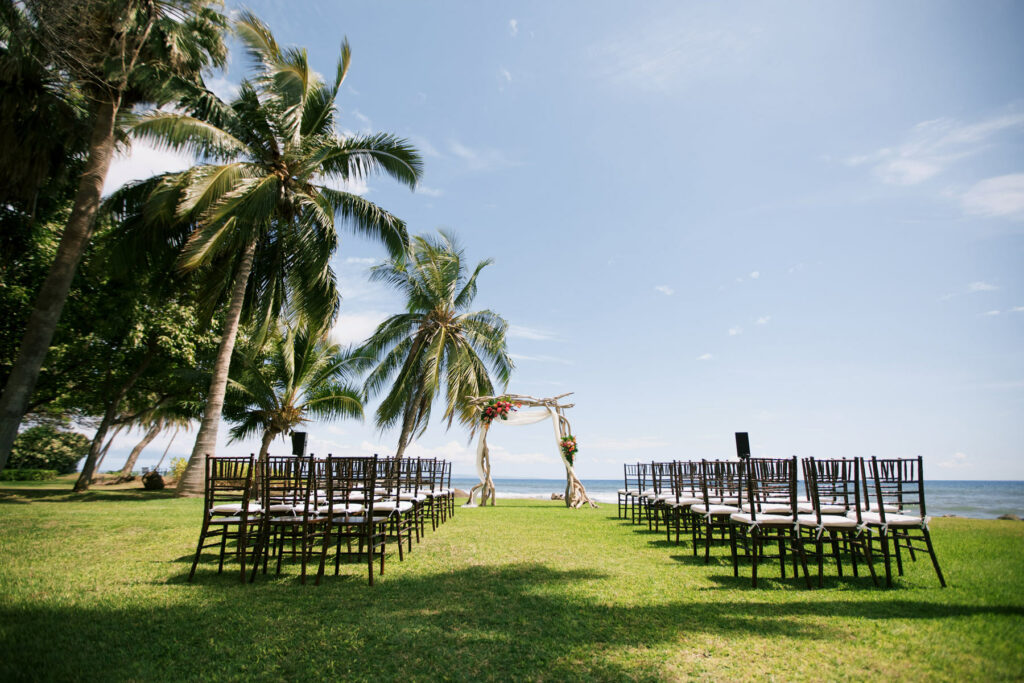 It's a historic estate and is the perfect venue for a dream wedding. Located on the West Coast, it offers several Maui wedding packages. Olowalu is among the most popular venues for a Maui wedding. It offers a charming oceanfront with a large lawn.
Hold a dream island wedding surrounded by palm trees and enjoy the music of crashing waves. The place is so naturally beautiful by itself that you don't need any other decorations. Complete the wedding ceremony and walk to the beach for some amazing photography to make the moments even more memorable.
The lawn and the lanai of the place are perfect for the celebrations that will follow. Hold a casual or elaborate reception decorated with Tiki torches and lights floating between palm trees.
As the evening closes by, this place creates an even more magical touch that will be remembered by all the guests.
It's a private estate so unlike a resort, you don't have to share it with other guests. The venue will be private and open only to your guests. The lawns touch the beaches, creating a fairylike effect where you have lush gardens on one side and the oceanfront on the other.
---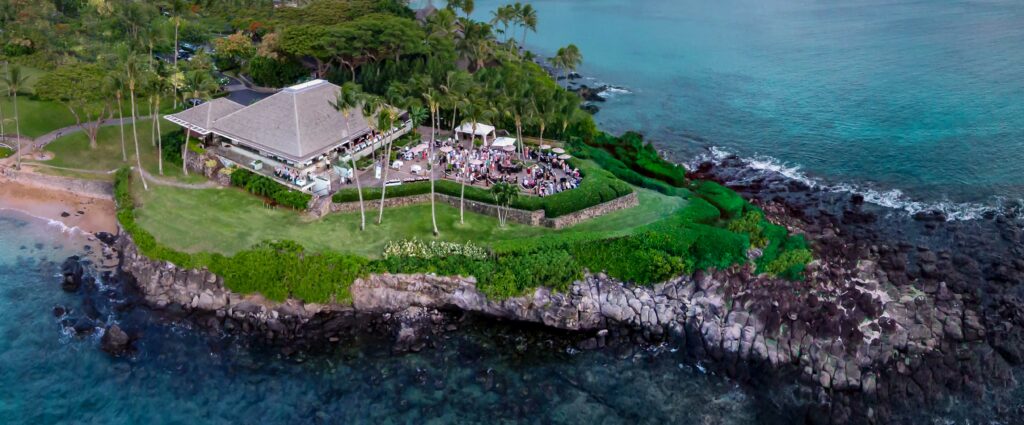 Hold a beautiful ceremony on Kapalua Bay with unparalleled ocean views along with the scenes from the Western Maui Mountains at the Merriman's Maui. With amazing amenities and enchanting views, this place will win the hearts of all your guests.
There are many sites at this venue along with different Maui wedding packages. Merriman's is known for its event management team that will make sure your dream wedding is exactly how you wanted it.
It's a royal venue that can accommodate up to 200 guests. There is a ceremony area and reception area along with indoor and outdoor spaces. At this resort, you'll find dishes made of only the freshest products, most of which are locally grown/caught.
There are two extraordinary locations where you can hold the ceremony. Both locations offer amazing ocean views and the perfect backdrop for your dream wedding.
Whether you want to get wed at the Kapalua Bay Lawn on the cliff area or the Outdoor Dining Cabana on the outer deck area, you'll get breathtaking views. There are also Evening Exclusive and Daytime Exclusive locations in this venue.
Maui Destination Wedding Legal Requirements
Legal Weddings vs. Symbolic Weddings
Before you come to Maui for a destination wedding, decide whether you want a legal wedding or a symbolic wedding.
A legal wedding or a civil wedding is when you get married legally in Maui and hold the ceremony there. However, in a symbolic wedding, you get married in your home country and then come to Maui for just the ceremony. Such a ceremony is called symbolic.
In a symbolic wedding, there is no legal paperwork involved and it's cheaper than a legal wedding.
Required Legal Documents & Cost
Here are the documents you need before booking any Maui wedding packages:
A valid government-issued ID with photo: Passports or driving licenses of bride and groom.
Birth certificates: Certified copies of the birth certificates of the bride and groom.
Hawaii marriage license: It is valid for 30 days.
Divorce or death certificates of previous partners: If the bride or groom has been married before, you'll need to deposit the divorce/death certificates of previous partners.
Hawaii recognizes same-sex marriage.
Legal Marriage Timeline
Here are the steps to follow to get married in Maui:
Gather the documents: Collect the valid IDs of the bride and groom.
Select a wedding planner: When you select a planner, you can have a hassle-free wedding. When you book a venue, ask them if they also offer wedding planning services.
Select an officiant: Select an officiant who is registered with the State Department of Health.
Get the Hawaii Marriage License: The license is valid only for 30 days so make travel plans accordingly.
Get married: Once all the document formalities are done, you can get married.
Maui Destination Wedding Planning Tips
How to Get There
By airplane
Kahului is the main airport of Maui. It gets interisland as well as overseas flights. There are two small airports as well: Hāna Airport in East Maui and Kapalua Airport in West Maui. Several airlines offer non-stop direct flights to Maui. Another option is to fly to Honolulu airport and then take a small flight to Maui.
By road
You can get a shuttle service in Maui. There are several rental car services as well. Tourists can also commute using the bus service.
By ferry
You can take a ferry to Maui from Lānaʻi island.
Maui Weather
Maui has dense rainforests along with mountain regions. Areas that have high rainfall are green and humid. Areas with less rainfall are sunny and dry.
The summer temperatures can go up to 88oF and the winter temperatures can go down to 63oF. Winters have higher rainfall than summers.
As you can see, the climate is fairly consistent throughout the year and it has typical Hawaiian tropical weather.
The place is pleasant all year long but the months of March, July, and August see the maximum tourist footfall.
Budgeting Tips
When getting a car rental, get an economy car – it will save rental money and will give better gas mileage.
If you get married in the off-season, your wedding costs will come down.
Get outside accommodation: Instead of booking accommodation at the venue, you can get cheaper accommodation outside.
Get accommodation with a kitchen: Websites such as Airbnb offer apartments where your entire family can stay and also save money by cooking homemade food.
You can get free entertainment sources such as Lahaina Cannery Mall and the bar district at Kaanapali Beach.
Best Time of Year to Get Married in Maui
Maui has pleasant weather all year long so you can get married during any month here. If you want to have a quiet and intimate wedding, you might want to avoid spring break which happens in early March, and winter holidays which last until mid-January.
If you want a pleasantly cool temperature with lots of Sun, September to November are the best months to get married here. While it generally rains in the winter season, there's still plenty of sunshine to have an amazing wedding.
Looking for other wedding destinations? Check out our helpful guides for Florida weddings and Cancun weddings.