When you think of a wedding, what comes to mind? Most people picture either a typical garden wedding or one at the church. These two types of weddings are the most popular options for couples around the world. Have you ever heard about non-traditional wedding ceremony ideas?
There are actually lots of alternative ways to celebrate a wedding. For instance, you can hold your wedding ceremony in a cave or even underwater. Sounds crazy, right? At the same time, these ideas can also be oddly fun and romantic.
So, if you're planning a wedding, you should never be afraid to experiment. It's possible to do whatever you like. Yes, you can even go as far as doing something that no one has ever done before!
But if you're having trouble deciding, take a look at our list of 12 non-traditional wedding ceremony ideas. We've gathered all sorts of options for your ceremony, including some that are quite unconventional. Some of these are from actual weddings. Others are just things we've come up with ourselves. Whatever it is, we hope you enjoy reading about them!
Here's hoping this article will inspire your own unique wedding!
12 Non-Traditional Wedding Ceremony Ideas
1. Lakeside wedding ceremony
There's nothing quite like exchanging vows in front of a lake. Not only does the sound of water calm nerves, but it also makes for amazing pictures as well. The combination of these two factors makes a lakeside wedding ideal for couples who want to have a memorable ceremony.
Besides, lakes tend to be less crowded than beaches. This means you won't have to worry about random tourists ruining your wedding photos. Instead, you'll be able to focus on enjoying your special day. After the ceremony, you can take off your shoes and feel the grass beneath your feet while taking some time to relax. You can also rent a canoe to row across the lake for some alone time with your new spouse.
2. Mountaintop wedding ceremony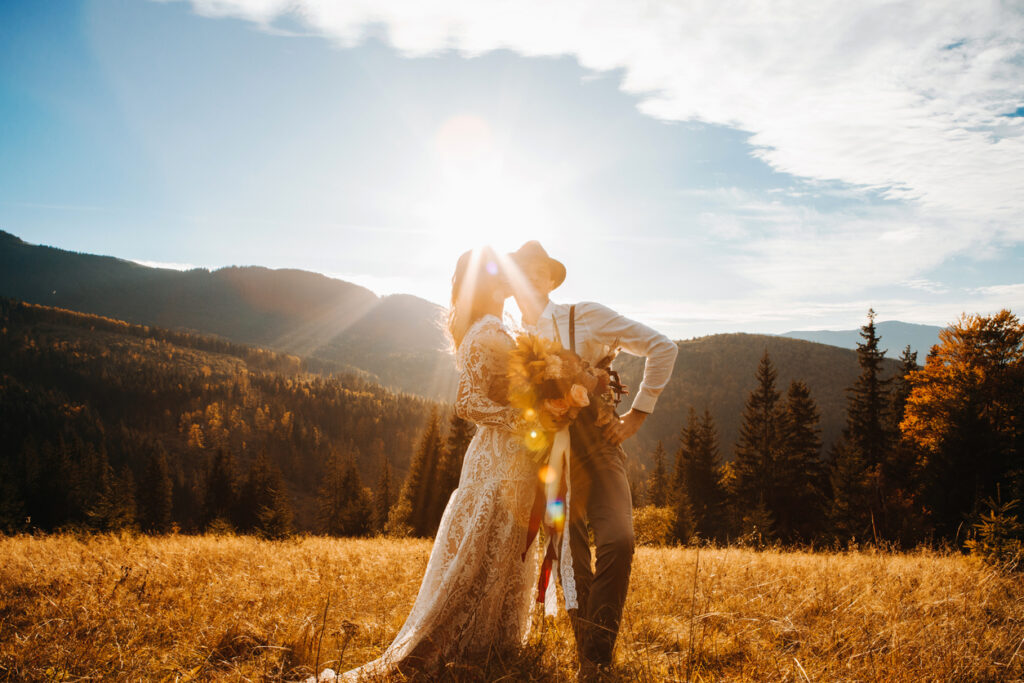 Mountaintops are always beautiful and breathtaking. If you want a venue that's both romantic and scenic, then consider marrying on top of a mountain.
It offers a panoramic view of the entire landscape, making it the perfect spot for your wedding ceremony. This way, you'll get to marry in front of natural scenery and wildlife instead of buildings and noisy passersby. Your friends and family will surely appreciate the sense of adventure.
This sort of wedding requires some careful planning, though. First, make sure your guests know where they're going beforehand! In some cases, you may need to plan out a specific route for your friends and family to walk down. Also, remember that mountains can get very cold during winter. So, don't plan your wedding too close to Christmas or New Year's Eve.
3. Hot air balloon wedding ceremony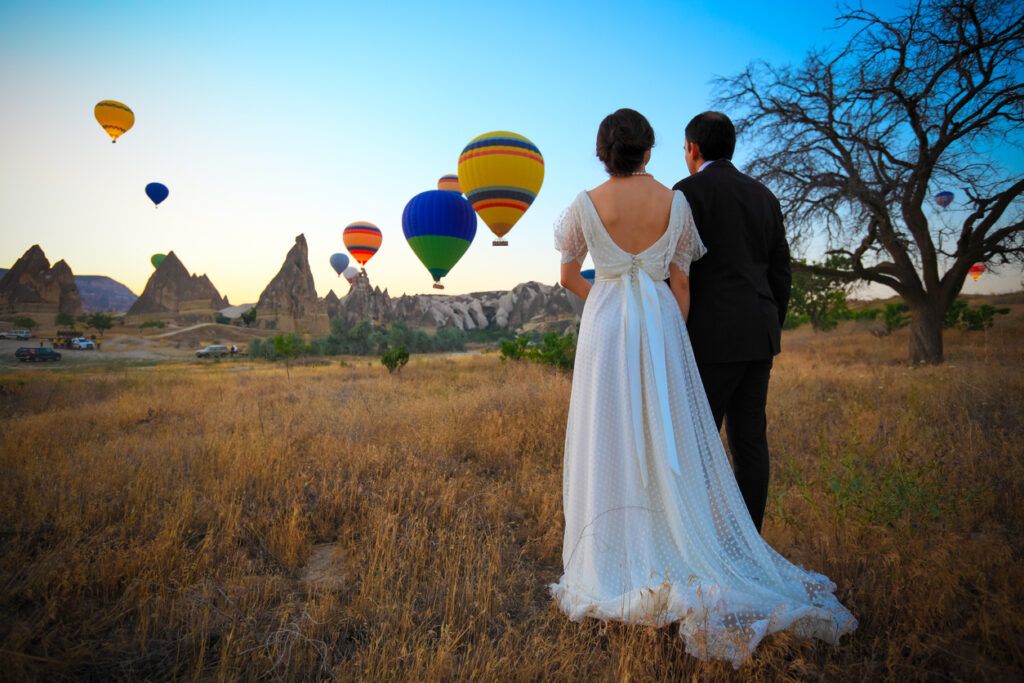 If you really want to do something different, then you should consider having your wedding in a hot air balloon. Although hot air balloons aren't exactly cheap, they're certainly eye-catching. It'll give you the opportunity to fly high above the ground. So, you can expect plenty of people to notice your wedding as you drift over the city skyline.
There are countless ways to use hot air balloons for your wedding. For example, you can have your entire ceremony on the hot air balloon as you float through the skies. Or you can have the initial part of the ceremony on land, then deliver your vows and kiss each other up in the air. It's up to you to decide which option you want. The sky is the limit!
4. Forest wedding ceremony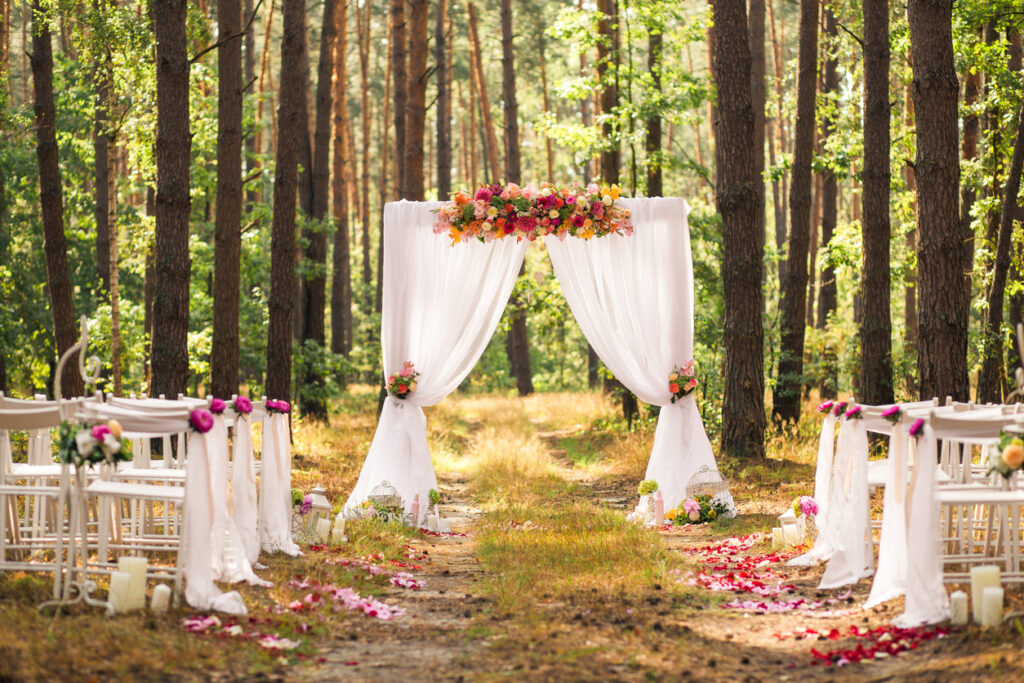 If you're looking for an environment that's both rustic and natural, then consider having your wedding ceremony in a forest. Flowers and trees grow around you, so you won't have to worry about fancy decorations. You can simply have wildflowers decorate the entire area with the help of your friends and family. If you have some crafting skills, you can also make a flower crown for the bride.
If you have some time after the wedding, plan a camping trip so that everyone can bond and spend some quality time together. After all, weddings are about building long-lasting relationships and memories.
5. Cave wedding ceremony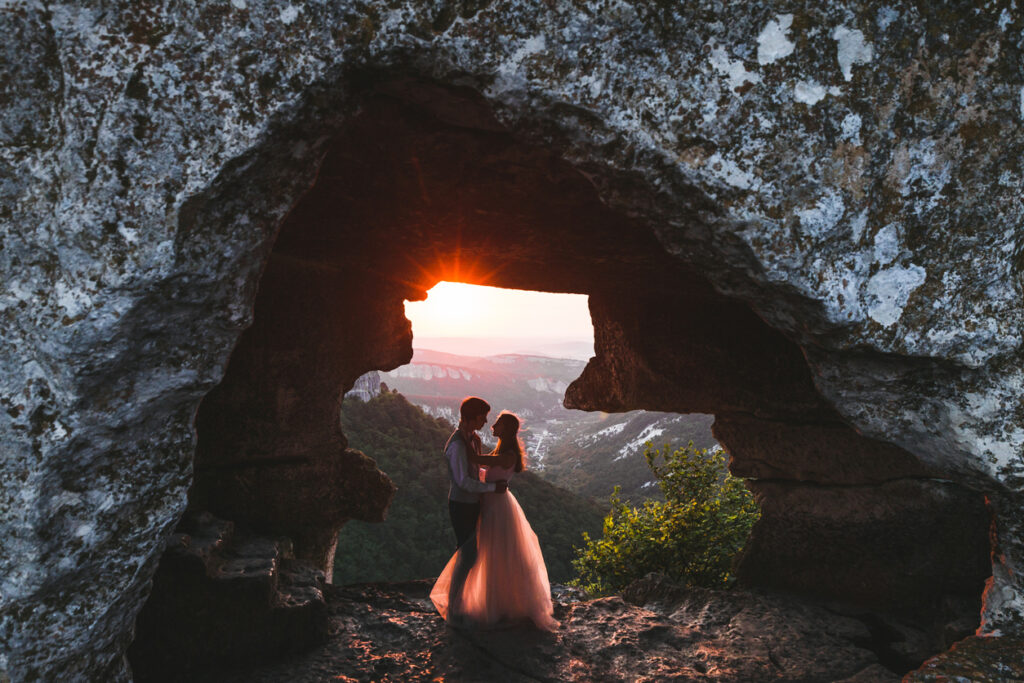 Caves are another great option for a non-traditional wedding. If you really want to impress your guests, you can set up a cave to look like a fairytale castle. Because caves tend to be dark, you need to make sure there's plenty of light inside. To create a magical ambiance for the ceremony, you may use candle chandeliers and torches.
Instead of wearing the traditional gown and tuxedo, wear elegant outfits, or perhaps some medieval clothing. Like a king and queen, you can hold a scepter in your hands as you enter the cave.
For the reception, have a long table set up, complete with white cloth and candles. And maybe even place rose petals on it! Also, serve food that's fit for royalty: roasted boar or venison, fresh salad, cheese, fruits, and wine.
6. Picnic wedding ceremony
If the idea of getting married in a cave sounds odd to you, then maybe a picnic wedding is right up your alley.
A picnic wedding is a good way to celebrate your wedding without having to spend money on a lavish banquet. All you need is some good food and a wide open space to have a relaxed time together.
For instance, you can simply use a blanket as a tablecloth and place some food on it. You don't even need to set any fancy tables or chairs. The guests can sit on the grass and eat their fill.
And since you already have food, why not go a step further and set up some tents? That way, they can sleep in the tents and have a good night's rest. They can wake up to a nice breakfast the next day, and maybe a few gifts!
7. Treehouse wedding ceremony
Treehouses aren't just for kids. They're an ideal venue for weddings as well. Just imagine exchanging vows in a treehouse constructed around the trunk of a gigantic oak. What a wonderful experience that would be!
Here are some easy steps to set up a treehouse for your wedding ceremony. First, you'll need to decorate it with some lanterns and fairy lights for a more festive atmosphere. You can also have a flower arch erected in front. After that, set up a small stage in the treehouse for the officiant and you to stand on. Finally, set some tables and chairs outside the treehouse, so that your guests can view the wedding from below.
8. Underwater wedding ceremony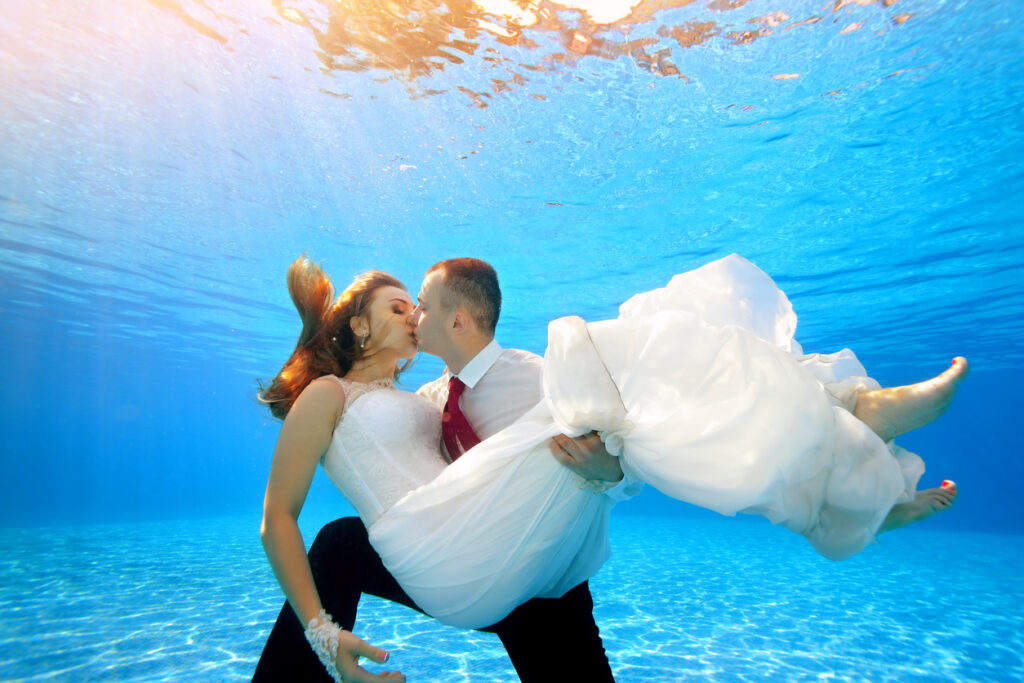 What if you want to get married underwater? Well, your deepest wish would require a lot of work. However, it's possible to put together an underwater wedding. All you need is a scuba equipment with audio capability, some advanced diving skills, and of course, the ocean.
The couple also needs to be in good shape. Otherwise, they might not be able to swim fast enough to escape when they see sharks coming after them.
Kidding aside, there's actually a decent number of companies that can help you organize an underwater wedding. They'll arrange everything, from renting out scuba gear to organizing a romantic dinner for you and your partner.
9. Vineyard wedding ceremony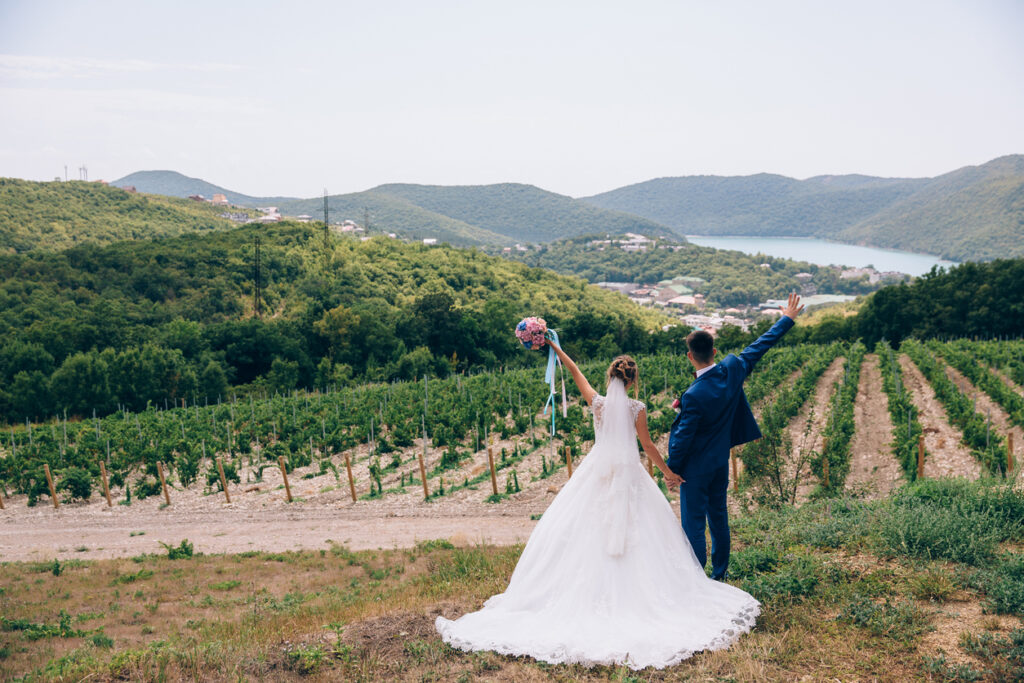 Weddings are always associated with sunshine, beautiful scenery, and wine. So, why not combine all three at once? A vineyard wedding is a unique idea that will surely surprise your guests. It will also give everyone the opportunity to taste some delicious wines after the wedding ceremony. Who wouldn't want to attend a celebration like this?
For the photo session, you can take advantage of the scenery and let your photographer take care of the rest. The bride and groom can stand at the edge of the vineyard, holding a bouquet of grapes and drinking wine.
Moreover, you can invite your guests to spend the night at the vineyard. You can provide them with beds and cots, so that they don't have to leave the premises until the next morning. This way, you can ensure they'll stay sober before driving home.
10. Wedding ceremony under the stars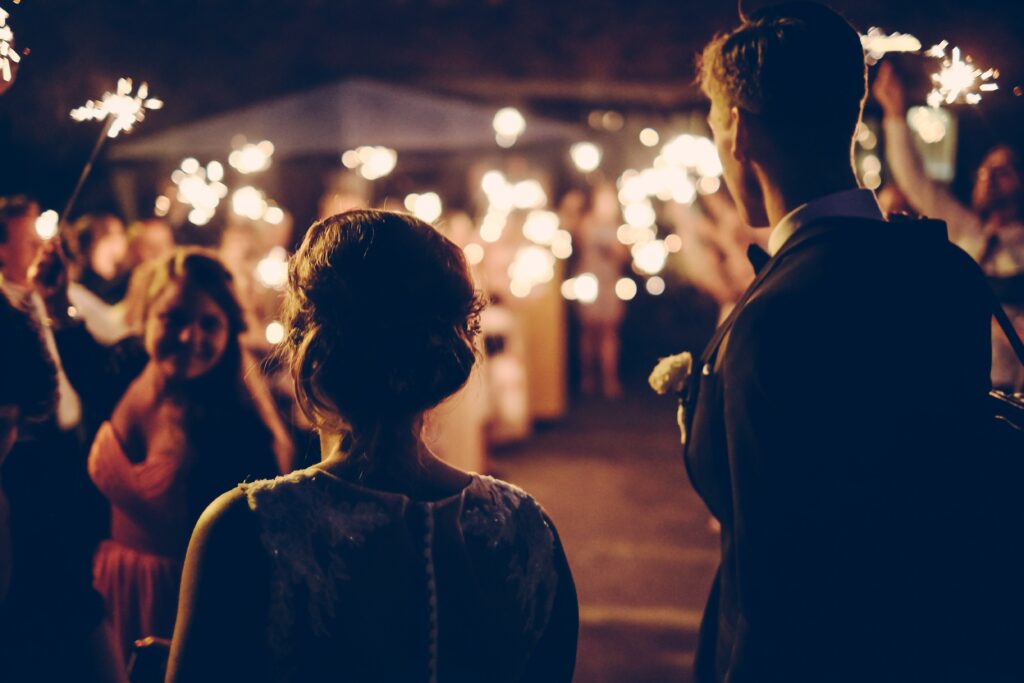 This is ideal for couples who want to have a very intimate wedding. There's nothing more celestial than celebrating your union with thousands of stars as your witness. It will be a truly extraordinary experience!
For the ceremony, all you need is a nice spot that isn't too far away from civilization. Choose somewhere that has a clear sky with a minimal amount of pollution. You can use glow sticks and portable lights to illuminate the venue.
Also, keep in mind the weather condition of the location you've chosen. If you're lucky enough to have a warm evening, then you won't need much else. But if it's gonna be cold, you'll need to prepare something extra for your guests like blankets and warm drinks.
11. Winter wedding ceremony
A winter wedding is a perfect idea for couples who hate the heat. During the winter, the temperature usually drops to zero degrees celsius. This means that you and your partner won't have to worry about sweating through your clothes. Besides, you can create a cozy atmosphere by setting up bonfires around the venue.
You can also take advantage of the snow and arrange a beautiful photo session outside. If you're up for some winter fun, consider arranging for a sleigh ride after the ceremony. The bride and groom could sit inside the sleigh while some guests ride behind them. It will make for some unforgettable experience!
12. Yacht wedding ceremony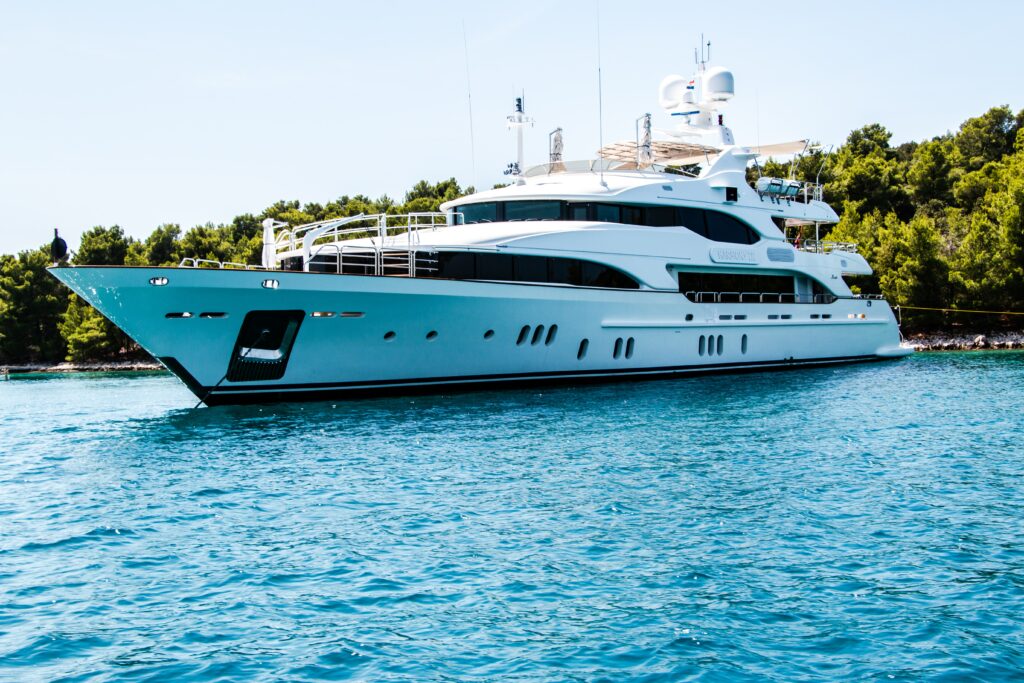 A beachside wedding is always an option, but why not go for something a bit more extravagant? After all, a wedding is a rare occasion.
Nothing screams luxury and style like a yacht wedding! Not only do you get to have your ceremony out on the open sea. You also get to sail away with your new spouse afterwards—which can be pretty romantic in itself. If that doesn't sound good enough, imagine having the best view of the sunset from above as you watch it sink into the ocean. It's a picture-perfect moment to exchange vows and say "I do."
On top of all these perks, the ocean offers a superb wedding photo backdrop. Who wouldn't want a photo of themselves standing next to their significant other at the bow of a sailing vessel? That's like a scene straight out of the movie Titanic!
5 bonus ideas for a non-traditional wedding ceremony
Pet-friendly wedding ceremony – You can make your guests feel extra welcome by inviting them to bring their beloved pets along for the wedding. Their furry companions can even have their own seat in the ceremony and be able to enjoy it just as much as everyone else.
Hire a string quartet – Instead of getting a band, hire a string quartet for your wedding. String instruments are great at bringing out the emotional side of any song.
Rent a carriage – Rent a beautiful horse-drawn carriage for your wedding procession. This will make you look like a couple from a fairy tale and is sure to capture the attention of all the attendees. Besides, it's cheaper than renting a limo or convertible car.
Have a destination wedding – If you're into exotic places and love adventure, then go ahead and plan a destination wedding. It can be an expensive affair, but it'll definitely be worth it.
Plan a themed wedding – A themed wedding ceremony is great for couples who want to experience something unique. You may choose anything that makes you happy! Some popular themes include retro night, tropical island, superhero, etc.
Final Thoughts
There you have it! 12 non-traditional wedding ceremony ideas and 5 bonus tips. These are just a few of the many alternative wedding ideas out there. If you want to share your own unique wedding, please do so in the comments below!