Purple is a beautiful color. Whether you like mauve, periwinkle, grape, lilac, heather, or any other shade, this is a color that makes its presence known. A purple wedding dress would make your wedding look more royal because this color symbolizes luxury, royalty, mystery, and power.
It's a color associated with richness and wealth. If you're holding a big, fat wedding, white just won't do. Stand out with a color that shows that you own the place. You're the queen of your empire. And what's a better color to do that than purple?
A lighter shade of purple, such as mauve can represent elegance, innocence, and magic. It has positive associations in many popular cultures and thus is an excellent choice for the modern bride.
Many brides feel that white is a boring color. They want to stand out and purple is one of their most favorite colors because of its association with royalty, specifically lilac. Lilac is a shade that creates a magic aura during any event. Many brides wear lilac to accentuate their beauty because it helps bring out the natural glow on their faces.
Let's look at some exciting purple wedding dress ideas.
Most Beautiful Purple Wedding Dress Ideas
When you're looking for a purple wedding dress, you want something that makes you look more beautiful and more special on your big day. Here are some purple wedding dress ideas for you.
1. Applique Off-the-Shoulder Ball Gown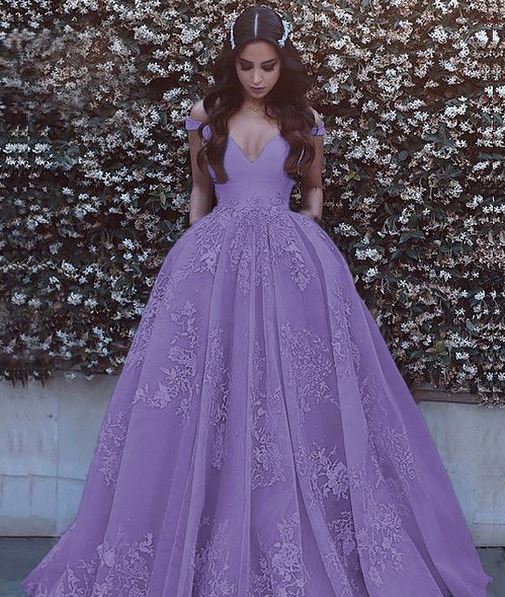 This wedding gown embodies pure romance. It has a breathtaking aura that reflects from its sweetheart off-the-shoulder neckline. It features a plain bodice that extends to the tulle of the dress. The applique work makes it stand out and gives it a unique fairytale look.
The trailing down the skirt leads to a beautiful train that adds a look of royal luxury. The dress will look even more stylish with a pearl necklace and pearl drop earrings. It goes well with ivory color and looks great for any season wedding.
The dress is also available in other colors so if you want a different shade of purple, you can get it. Wear this dress and experience ethereal glamor as you grab all the attention at your wedding. Let your groom gasp with surprise and watch him fall in love with you all over again as you don this beautiful dress that makes you look like a princess.
Available at Hebeos.
2. Chiffon Lace Ball Gown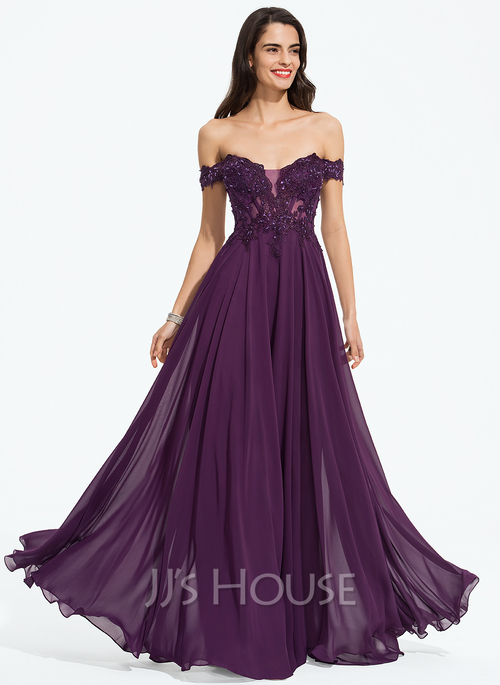 Check out the shimmering sequins and swirling beading on this off-the-shoulder dress that has embroidered lace applique on sheer mesh. This is for the young bride who loves classic romance with effortless touches. Wear this to accentuate your outstanding taste and truly be the star of the day.
It's a glamorous gown that exudes style and comfort. A shy notched neckline gives it a sexy plunging touch that adds elegance and style. It comes with a soft chiffon A-line skirt that flows right from the natural waist and creates a dreamy look. The dress carries an extra mesh insert that offers support to the bodice. Its plunging neckline comes with off-shoulder straps. The chiffon skirt flows to the floor length and completes the graceful look.
It brings together sophistication and dramatic elegance that's completely unique in its own sense. The dress creates a remarkable look that your guests will admire. It's a red carpet dress that will make you look and feel like a celebrity.
Available at JJ's House.
3. Ball Gown with Pleats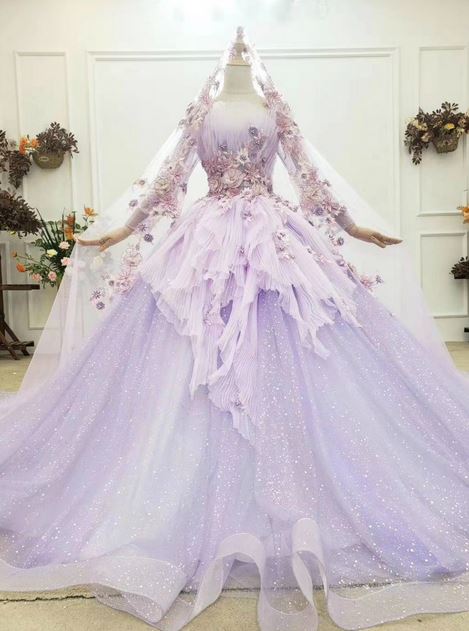 If you want your wedding ceremony to stand out from the ordinary, take a look at this dress. This exclusive wedding dress comes with applique pleats and embellishments. It's made with tulle and it's amazingly lightweight and comfortable to wear. If you sweat thinking about heavy wedding dresses, this is the one for you. It's breathable and lightweight, even though it looks stylish and heavy.
The long sleeve design of the gown gives a royal appeal that's accentuated by the floor length hemline. The scoop neckline of the dress makes it truly unique and exclusive. The dress comes with an inbuilt bra that will provide the right support to you.
The pleats are made using glittery tulle net that sparkles and catches the attention of every guest. It comes with an optional train. You can choose the length of the train according to your preferences. Since it is light in color, it can be paired with darker accessories.
Available at Kemedress.
4. Dreamy Purple Wedding Dress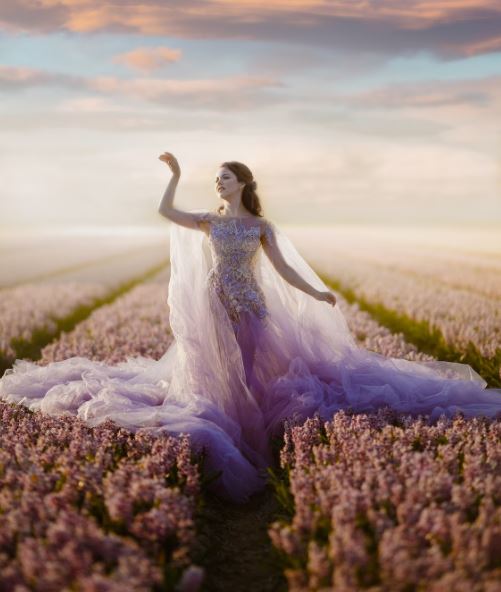 Feel like you're floating on clouds. This fluffy purple wedding dress consists of two types of laces. It's a soft dress without any bones or cups – just tulle, lace, and mesh. And since it has a lot of tulles, it gives a cloudy feeling. It's extremely light and flowing, and carries a magical aura that will make everyone stop and stare at the bride.
The gown has laces and beading that are handstitched with 3d elements using couture technology. The dress is super flowy and doesn't have a big train. However, you can wear a separate train with it. The lace at the top of the skirt and the bodice give it an elegant touch. The long sleeves are detachable, so you can customize the dress according to your preferences. If you were looking for a wedding dress that's out of the ordinary and makes you stand out, this is it.
Available at Etsy.
5. Satin Ball Gown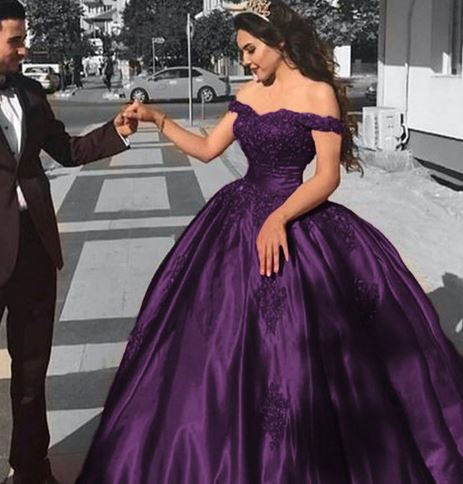 If you love satin, this is the dress for you. Satin has a natural shine that draws attention to itself. The classic satin ball gown with lace embellishments that make it a perfect wedding dress. Add to that a beautiful purple color and you've got yourself a dress that's classically elegant and yet defies the rules.
This gown truly represents a modern bride who is fearless enough to wear what she wants, and very gracefully too. This is a voluminous dress that makes your waist look smaller. The way it flows around your body, you'll feel even more special on your big day. It's your wedding and you deserve to look like a princess. This gown helps you do that.
It's classic. Beautiful. Extravagant. It's everything you wanted to look for on your wedding day. The sleeveless off-the-shoulder bodice gives it a sexy appeal that glamorously extends into the gorgeous lush skirt. It's very stylish and yet very comfortable to wear.
Available at Promlily.
6. Sweetheart Lavender Gown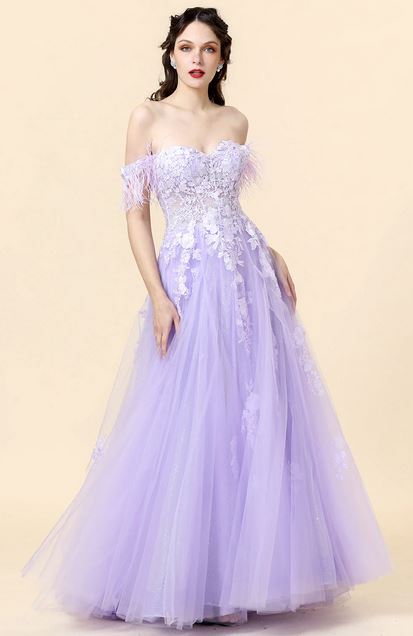 Check out the beautiful feather lace at the sleeves and a sweetheart neckline that's hard to miss. This lavender dress comes with stylish applique work that makes you stand out. The color of the dress is very youthful and is ideal for a young bride who enjoys grabbing admiration and attention.
This dress is fun, flirty, and oh-so-beautiful. Ideal for a summer or spring wedding, it carries a whimsical approach that suits a girl who likes to have fun. If you're planning on having a simple but tasteful wedding, this is the dress for you.
When you're wearing this dress, every step you take down the aisle will be like a dream come true. The floral lacework on the bodice connects to the feather lace at the sleeves that flows as you move. You're already a head turner, it's time to dress like one. After all, it's the most special day of your life, and all eyes should be on you.
Available at Hellymoon.
7. Princess Chiffon Purple Wedding Dress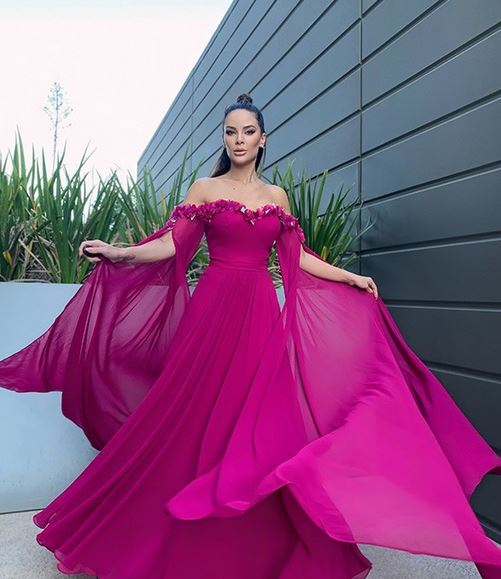 Chiffon is among the most popular materials for wedding dresses. Since it flows so beautifully, it accentuates your body shape and makes you look even more beautiful. It's a classic ball gown with a twist. It has breathtaking flowers at the neckline and long flowing sleeves. It's a true masterpiece that will make you look the most beautiful at your wedding, just the way you should.
It's a lightweight purple wedding dress that has a fitted bodice with an off-the-shoulder sweetheart neckline. The long sleeves of the dress are elegant and sexy, and create a magical appearance. A truly awe-inspiring boho-type dress, it has a stylish look about it that's completely unmatched.
If you're the kind of bride that's hard to please, this dress is for you. It's not like the run-of-the-mill dresses. Wear this dress and you'll feel like twirling. A dress so vibrant and stylish, it brings out the little girl in you.
Available at Hebeos.
8. Very Floral Purple Wedding Dress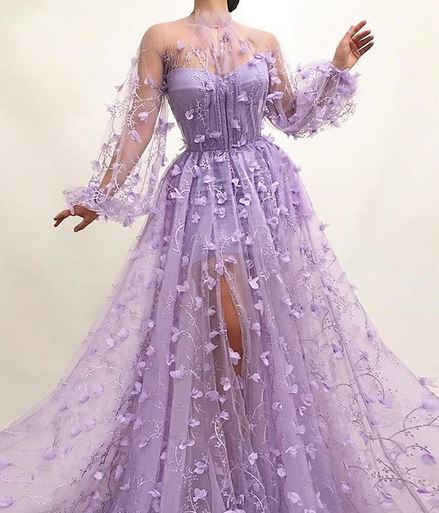 Drape yourself in flowers with this pretty floral arrangement. The floral tulle encompasses the simple dress and creates a beautiful jacket around it. The tulle net has flower applique work on it that gives an exquisite visual appeal.
It's available in several colors so you can choose the shade of your choice, whether you want lilac, wisteria, or mauve. The floor-length hemline of this dress gives it a traditional appearance. It comes with a built-in bra to provide support as you walk confidently down the aisle. The sleeves are also made of floral applique tulle and carry a puffy appeal.
With no uncomfortable bones or cups, this dress will keep you happy and relaxed. Elegant enough for reading the vows and comfortable enough for dancing with the groom, this dress has it all. If you don't like glitter and shimmer but rather plain old classically elegant dresses, this is the one for you.
Available at Light in the Box.
9. Purple Wedding Dress with Frills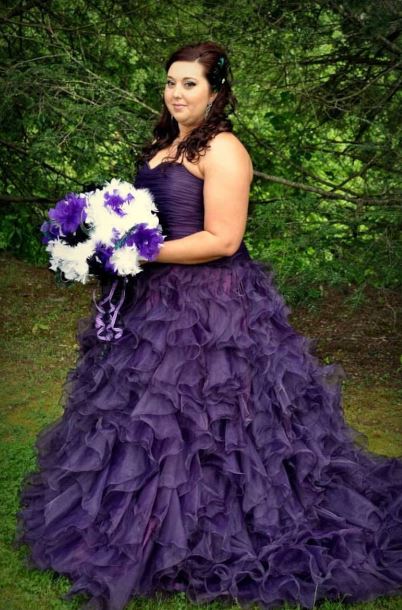 This dress seems to be right from a fantasy movie. Made with soft bridal organza, the frills cover the entirety of the skirt and give it a divine look. It has a sweetheart neckline and drop waist ruching. The skirt is made with multiple organza layers.
The best part about this dress is that it's fully customizable so it can be made exactly according to your size. And if you prefer some other shade of purple (lilac, perhaps?), it can be made in that shade as well. You can also add a removable train to the dress.
While it looks very complicated, it's very easy to wear. All frills are handstitched to the dress and it comes with boning to add structure to the gown. If you want any special addition, such as a cape or a scarf, you can get that as well. Pair it with a white and purple bouquet and the look will be complete.
Available at Etsy.
10. Lilac Frosting Dress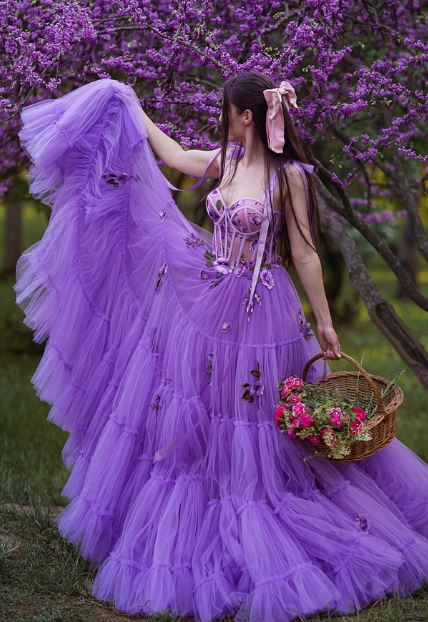 This dress is for the daring bride. It has boning and bust cups to give you the support you need. Its tulle skirt is ruffled and carries a sophisticated look. The shoulder bows add to the charm of the dress by giving it an Asian look. It comes with satin underlining, and the floor-length dress has a royal and mysterious appeal.
The bodice has a floral print and the skirt has floral applique work. If you're planning a garden wedding, there cannot be a dress more perfect than this. The bodice is chic and sleek and the gown looks irresistibly luxurious.
This gown creates a dramatic aura that's eye-catching and will make heads turn. It will also make the groom swoon with love as he lays his eyes on you. It's surprising how effortlessly amazing this dress is. Looking for a purple wedding dress you can obsess over? This is it!
Available at Chotronette.
Some Tips While Going for a Purple Wedding Dress
When you decide to wear purple and not white, it takes a big commitment. You're going to look different. If you're bold enough to take that step, here are some tips to keep in mind.
1. Wear lilac shoes. Lilac complements almost all shades of purple.
2. If you want to be adventurous, you can go for a purple sash, hairpiece, and gloves. And if the weather is a bit cool, you can also try on a purple shawl.
3. If you don't want to keep it simple, try to find a purple gown with embroidery or applique work. It always adds a twist to the classic wedding dress.
And finally, keep the theme white and purple. This way, it will be in accordance with your dress but also will not be too purple. You can also add a touch of gold for a royal appeal.
Looking for some other color? How about these red wedding dress ideas?