Looking for a glamorous, sizzling, and show-stopping color to enhance your special day? While women have traditionally donned white, they are now turning to other colors and experimenting with their looks. Many new brides prefer red as it's the color of love. Red wedding dresses will help you make a statement on your wedding day.
A red wedding dress opens up exciting opportunities to experiment and play when it comes to accessories, jewelry, shoes, veil, and headpiece. It can be long or short – it's your special day and you make the rules.
While almost every bride wears the traditional white look, there's something about red that makes your dress more gorgeous, bolder, and more eye-catching. And what can be a better way to walk down the aisle than wearing the color of love?
Why Do So Many Brides Go for Red Wedding Dresses?
Apart from the bold looks, passionate appearance, and audacious attitude, red has other significance as well. Red is a part of several cultures and religions. For example, in Chinese and Indian cultures, red is the traditional wedding color because of the luck it carries.
While in western cultures, red signifies passion and love, in Chinese culture, red stands for happiness and fertility. They believe that a marriage will last for life if the bride wears red.
Are you looking for red wedding dresses? Let us help you out with some amazing dress ideas that will make your wedding extra special and extra glamorous.
Some Amazing Red Wedding Dresses
1. The fluffy tulle dress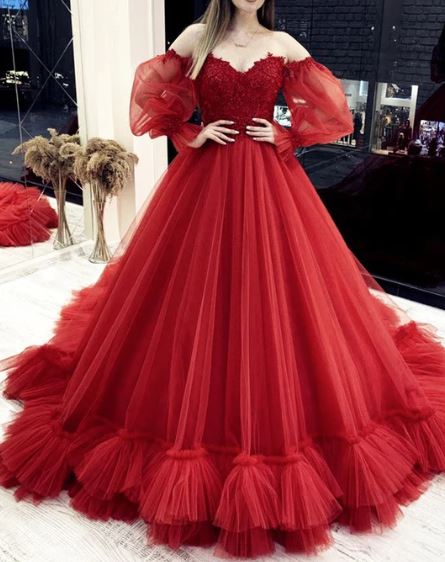 This red tulle dress gives a fluffy appearance that makes you look like a fairytale princess. The little red riding hood, perhaps? With layers of frothy tulle net, this enchanting gown is waiting for a real life love story to happen.
The tulle look is enhanced by the ruffles at the bottom. The gown is designed to create a statement look. And why not, after all, it's your wedding and you should look extraordinarily beautiful. Carry the look of a princess – or a queen perhaps (?) – with this gown that's designed to impress.
If you're not a big fan of accessories, this gown is perfect for you. The fluffy fabric and frothy ruffles create a dramatic touch that's hard to resist. Also, check out the sleeves that add to the fluffy look of the gown.
Available at Alinanova
2. The Red Dream Gown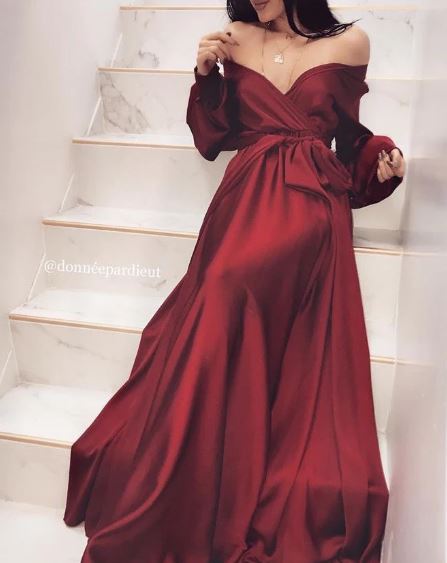 Make an entrance with this burgundy gown that doesn't miss out on glamour. Add a sparkle to your glam factor with this elegant gown that shouts bridal. It has a berry-licious appeal with an off-shoulder neckline.
Accessorize it with a chapel length veil and you've got yourself a dress that will make boys sigh and girls jealous. And if you're a fan of the dancing girl emoji, bring her home in the form of this amazing ballgown that's also a wedding dress.
Whether you want to look your best while walking down the aisle or want to set the dance floor ablaze, this will be your favorite red dress. It's perfect for the hopelessly romantic.
Available at Donnee Par Dieu
3. A lace dress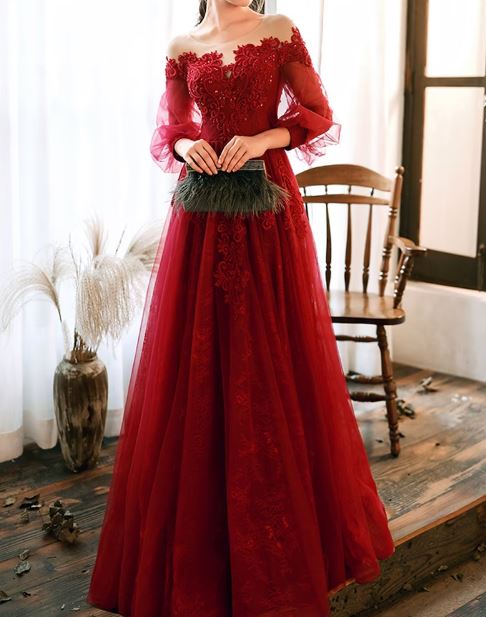 This red lace dress already makes a statement in the first look. And then you look at the intricate work done in the lace and you fall in love all over again. This off-shoulder gown gives a sultry yet elegant look that's not easy to find.
The wine red lace gives way to wine red tulle that's beautifully present on the sleeves and the rest of the gown. Accessorize this gown with silver earrings and a beautiful veil that say you're an unconventional bride. A white bouquet will work perfectly with this dress. Mix bold colors with pastels and create an unmatched appearance that will make your guests remember your wedding for long.
Available at Etsy.
4. A white and red dress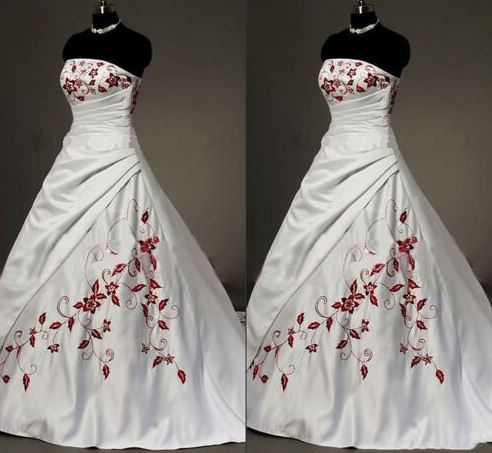 Yes, red wedding dresses are bold. Yes, they are glamorous. However, if you don't want an entirely red gown and want to just play around with red a bit, this is the perfect dress for you. This strapless draped gown is all white with a red floral sequence on it.
Satin gives a beautiful and sexy skin hugging look that is enhanced by this dress as it drapes around your body. It's a full-length strapless and sleeveless A-line dress that will create an enchanted look as you walk down the aisle.
Pair it with a silver necklace and earrings and a white birdcage veil to add glamour to your look. It's got just the right amount of charm to make your groom swoon with love.
Available at eBay.
5. Corset red wedding dress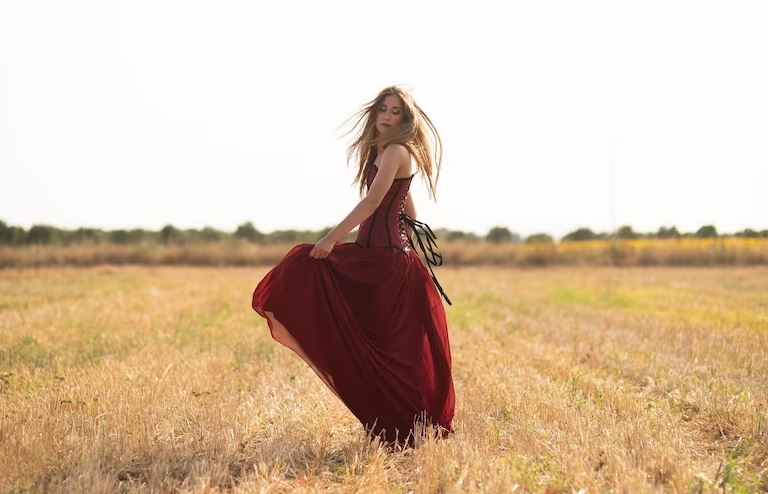 When want to tie the knot in the autumn, your dress should reflect the casualness of the season while keeping it stylish and sophisticated. This dress has a corset at the top for the unconventional bride.
Get the perfect fit, thanks to the corset and feel like a princess in a whimsical setting. This is the kind of gown that will make you want to become a bride right away. Easy to adjust, soft fabric, and a fun-loving, yet elegant style will captivate all the guests, not to mention, the groom. It's a custom-stitched gown that is made exactly according to your specifications, which makes it all the more special.
Available at Etsy.
6. A boho wedding dress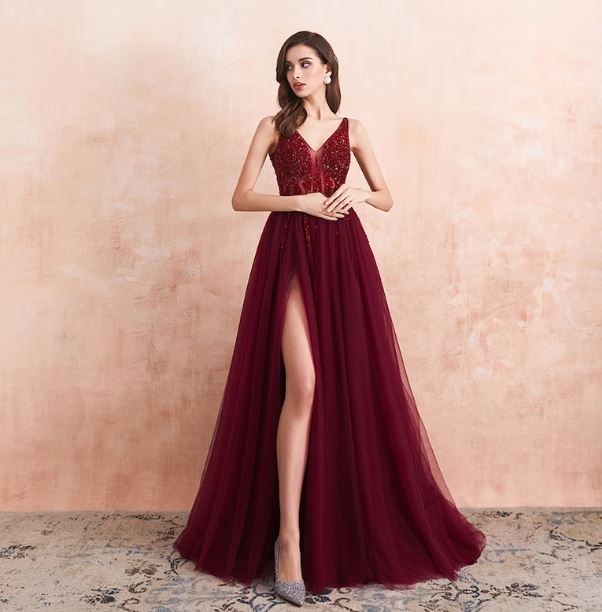 Soft lace material for the top and soft tulle at the bottom – this gown creates the perfect look that captures the boho essence at your wedding. The beads on the gown look like stars in the wine red sky.
Prepare to fall head over heels in love with this burgundy red wedding dress. It's oh-so-romantic and flaunts your figure. If you've got it, why not flaunt it? Make your groom fall in love at first sight with the new you.
Look and feel amazing from the first kiss to the wedding dance and just soak in the moments. You need minimum accessories with this dress. Just get dressed and get ready to kill.
Available at Etsy.
7. A simple wedding dress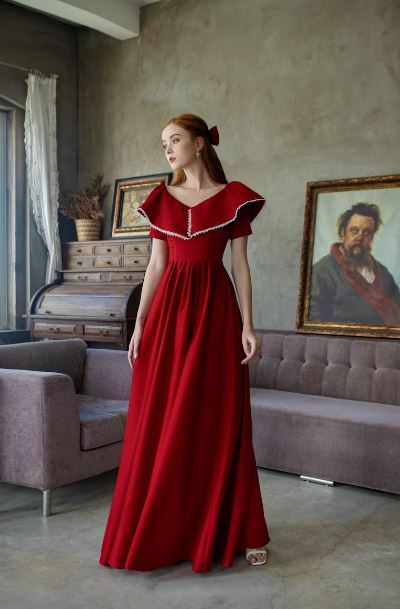 If you're a simple girl with traditional tastes, this is the perfect dress for you. Since it's custom-made, it offers a bespoke fit, which means you don't have to go for alterations. And alterations are the arch enemy of any bride. When time's running out, each small alteration can be frustrating.
The bib neck of the dress is the definition of a statement gown. While it's a pretty simple and traditional design, don't mistake it for anything less than super-stylish. If you're a working independent woman who's not too much into frills and flares, this is the perfect dress for you.
Complete the small-town girl look with a red bow behind your hair and create a unique theme for your wedding.
Available at Etsy.
8. Wedding dress with train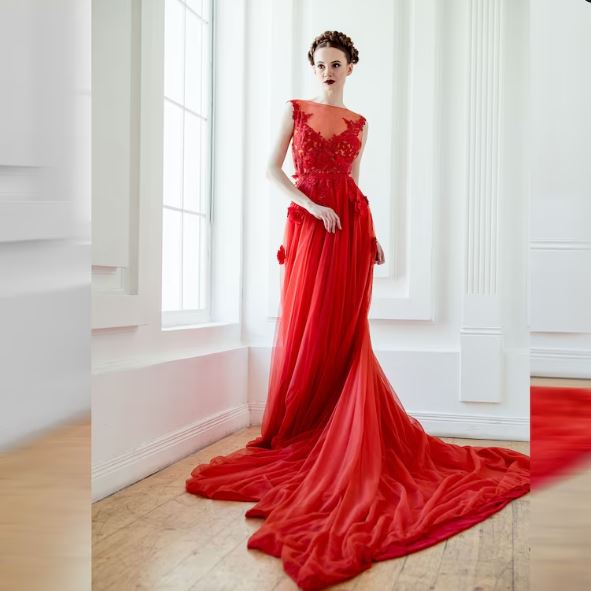 There are several red wedding dresses but there's nothing like a gown with a train. Give a special appeal to the bold red color that makes way to a boisterous mega wedding. Have fun with this dress that comes with a removable 1m train. Don this gown and have fun with your looks as you bring the A-game.
This gown gives a special charm as it flaunts the tulle and lace fabric with striking red flowers on it. It has a deep V-cut neck on the back that makes it look even more elegant. It comes with a lining of fine silk that holds everything in place, so you can walk down the aisle with confidence.
The chiffon and tulle train can be removed easily so when the formal event is done, you can take it off and enjoy a dance.
Available at Etsy.
9. Corset and train wedding dress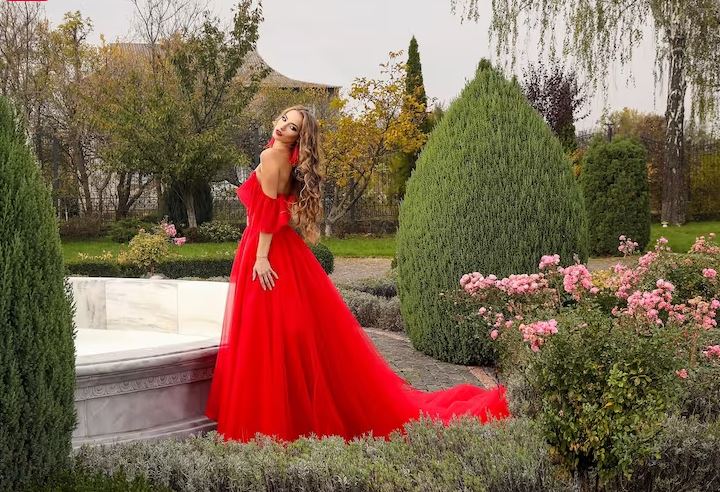 Embrace a show-stopping look with the off-the-shoulder gown. The extended train of the gown offers a romantic appeal with a strong structure. And the corset of the top allows the perfect fit. No more alterations, no more problems. Just wear the dress and tighten it according to your requirements.
The train is easily removable so you can have an amazing photoshoot and when it's time for a casual dance, take the train off and have fun! It's a handmade dress, which is made according to your exact specifications. What can be a better wedding dress than the one that's made bespoke for you?
The daring slit gives it a sexy appeal that is enhanced by its suggestive sleeves. Pair it with red and white accessories to create the perfect wedding look.
Available at Etsy.
10. A bombshell dress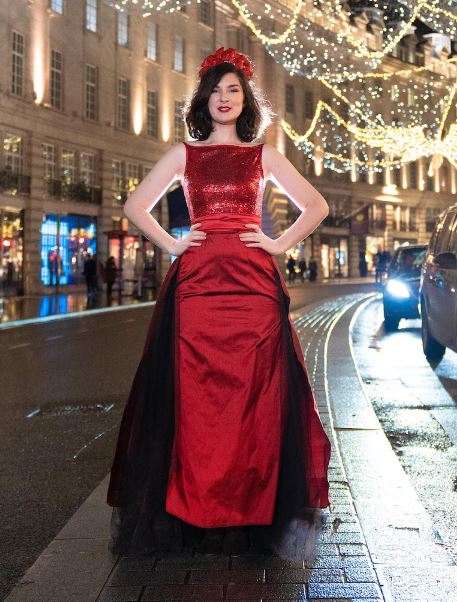 Who says sexy can't be elegant? Check out this gown that makes you look like a Hollywood diva. This red silk dress comes with a black tulle net to add to the appeal of the gown. This exquisite and one-of-a-kind dress is handmade on order.
Fall in love with the stunning red and black dupion with allover sequins that catch the light as you move. Look sparkly as you reflect the stars in his eyes as he falls in love with you all over again. There's a gunmetal necklace at the back that can be removed easily.
The waistline comes with a ruched satin sash with a bow at the back. The skirt is split at the back, helping in easy movement. No matter how you look at it, it's truly a bombshell dress.
Available at Etsy.
11. Burgundy wedding dress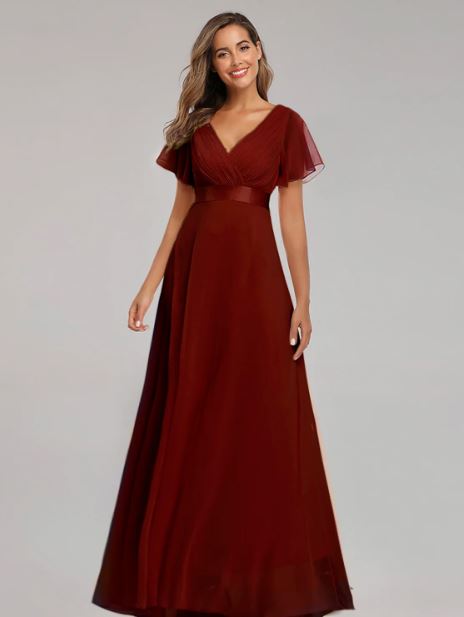 This dress is ideal for a casual wedding event. For example, if you're planning to have a beach wedding or an autumn wedding, this is the dress to wear. And why not, red wedding dresses suit all types of ceremonies. It's a dress that checks all the boxes – bold, red, comfortable, elegant, and sexy. What more can you ask for?
The top of the dress is made with crushed fabric while the waist is accentuated by a broad belt. It's the perfect wedding dress that can also be used as a cocktail dress when you want to. It's effortlessly timeless, so no matter what trends may come and go, this dress will always look stylish. Yes, it's the dress that you can pass on to your kids and then to your grandkids.
Available at Light in the Box.
12. Indian wedding dress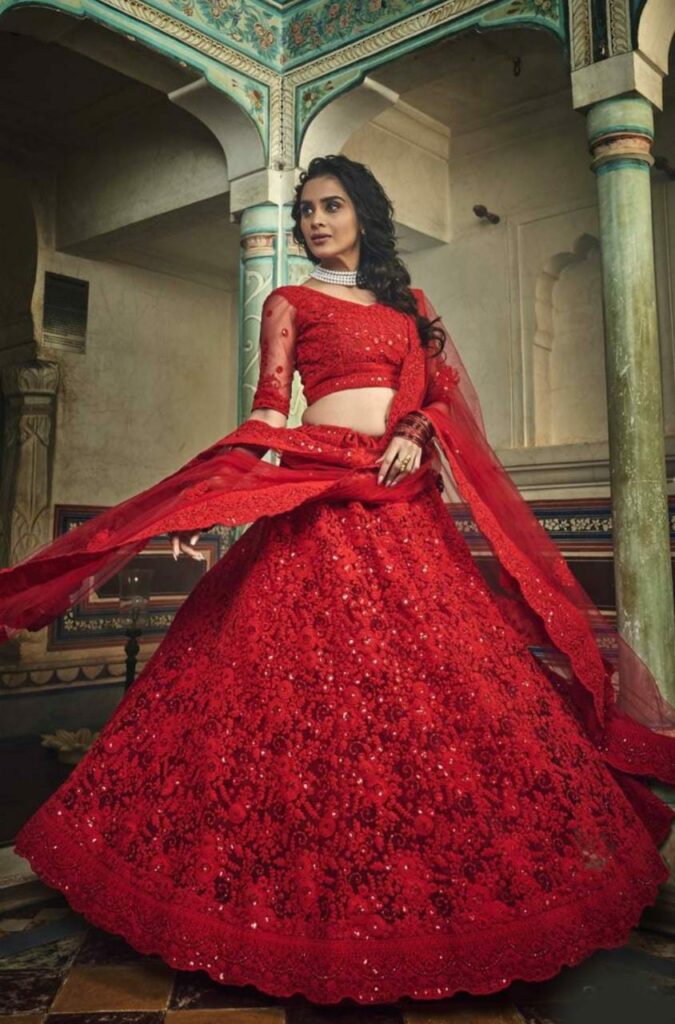 In Indian culture, brides wear red to symbolize fertility and prosperity. This unique gown carries the Indian embroidery appeal that's covered in sequins. You can buy this semi-stitched gown and then get it completely stitched according to your size.
The top and bottom are separate in the gown and are traditionally worn with red bangles. Accessorize it with a pearl necklace to add to the elegance of the dress. It's a graceful lehenga choli with a broad golden border. It comes with a scarf that's made with soft and comfortable material. Pair it with high heels to get the perfect Indian bride look.
Available at Mirraw.
What Red Wedding Dresses Signify
White is the typical and conventional color for weddings. However, as more brides prefer colored wedding gowns, many of them want to go for red. Let's see the significance of a red wedding dress.
Good luck: In many cultures, red is the color of good luck and fortune.
Boldness: Red is a bold color. By leaving white and going for red, you're showing your bold side as a bride.
Love: Red is the universal color of love. As a bride, you can express your love for the groom by wearing a red dress.
Eye-catching: Red is the most eye-catching color, and there are scientific reasons behind it. It has a long wavelength and is the most visible color in the entire color spectrum. This is why all important signs are in red.
Suits all body types: Red is a very striking color and looks good on all body types, shapes, and sizes. When you wear red on your wedding day, you can look good, no matter what your body type is. That's what makes it so special.
Looking for the right wedding dress? Here are some tips for the perfect wedding gown.